| | | | |
| --- | --- | --- | --- |
| Doc. Number | Article Title | Effective Date | Version |
| FHC-XX | Changing the "Assigned To User" | January 18, 2023 | 0.1 |
This article was developed to provide the steps involved in changing the "assigned to user" within the Forth CRM.

1. To begin, from the Contacts tab of the CRM, go to the client dashboard of the contact you wish to re-assign and click "Edit Contact" located on the Navigation Bar, next to the Search field.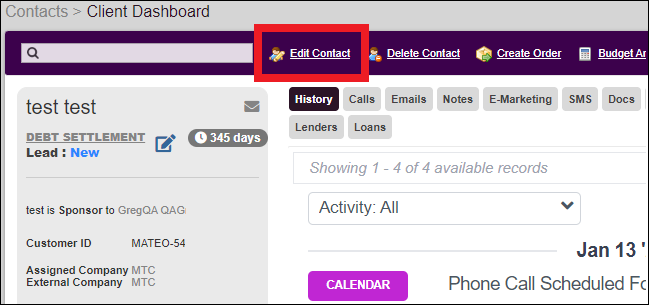 2. You should now see the option displayed above the intake form, on the top right of the page, to change the Assigned To User and Company (if user permissions allow). The "Public" check box is also displayed here. Checking the box and making a contact "Public" enables it to be available to anyone in the assigned company, regardless of user permissions or Shared User Data settings. Once you make the desired changes, click "Save" on the navigation bar for the assignment to be changed.


F.A.Q.

Can I reassign all the leads from one user to another?
Yes, please visit our article on using the Mass Edit tool to reassign contacts. Click Here
Article Version History:
| | | |
| --- | --- | --- |
| Version | Effective Date | Description |
| Basic | 12/26/2016 | Initial Release |
| 0.1 | 01/18/2023 | Added header and version control footer; Reviewed hyperlinks and screenshots for accuracy; Updated both screenshots to reflect current user interface. |
| | | |