| | | | |
| --- | --- | --- | --- |
| Doc. Number | Article Title | Effective Date | Version |
| FHC-XX | Mass Processor Change User Interface | January 19, 2023 | Basic |
Forth has created a User Interface (UI) for Account Managers to move client transactions to a new gateway without the need for support/development involvement. This new interface allows you to select a previously constructed contact list; it now allows you to change the gateway for the transactions on those contacts; it allows you to pause or unpause payments or neither; and it also allows you to cancel all contacts in that list. You may also perform any combination of the actions listed above at the same time.
When a contact list is selected, you can choose to populate and view the list which will be displayed as a table with column headers, based on fields displayed on the contact list.
The list displayed is paginated for performance and page size concerns.
This feature is enabled by Forth for our clients. Once enabled, the client can assign role-based permissions (via the Admin Tab) to best utilize this feature. Once enabled for a role, it can be found via the Enrollments Tab by clicking a button called "Mass Processor Change" on the Navigation Bar (see below).

NOTE: When using this tool, payments scheduled for the current day will not be affected (avoiding issues with batching times).
IMPORTANT: This feature can NOT be used for the ForthPay Custodial, RAM, or GCS gateways, due to their unique fee structures.
Upon clicking "Mass Processor Change", a dialog box similar to the one below appears, to be used to make the changes listed in the first paragraph of this article. Change the settings below as appropriate, and press the "Preview Contacts: button at the bottom.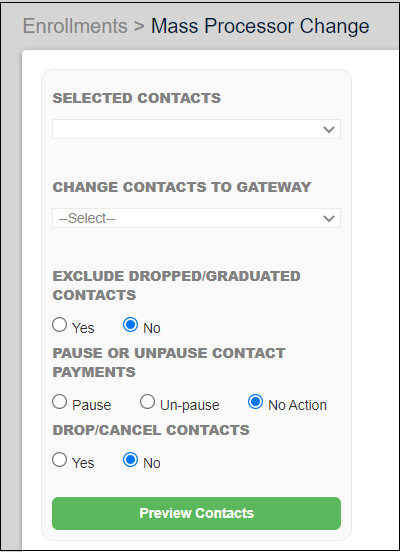 A new "Effected Contacts" table should now appear, reporting the parties that will be affected by this Mass Processor Change. Review that the affected contacts listing is accurate. If the user clicks the "Accept Changes" button at the bottom of that table (see below), the user is acknowledging that the changes about to be made are PERMANENT and CAN NOT be undone. If this is the case, the user can click the "Accept Changes" button.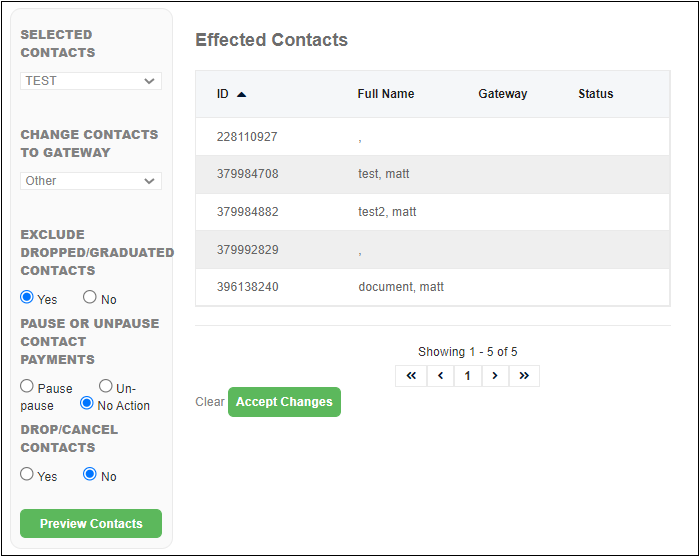 The length of time it takes the job to complete is tied to the number of contacts in the list being affected. (The greater the number of contacts, the longer it will take.) Once the job has been completed, the user who initiated the mass processor change will receive an email notifying them that the job is complete, and each contact that was affected will have history items created to show the changes have been made to their record.
Article Version History:
| | | |
| --- | --- | --- |
| Version | Effective Date | Description |
| Basic | 06/01/2022 | Initial Release |
| 0.1 | 01/19/2023 | Added header and version control footer; Replaced company references with Forth for rebranding. |
| | | |