| | | | |
| --- | --- | --- | --- |
| Doc. Number | Article Title | Effective Date | Version |
| FHC-XX | Forth Insights Overview | March 20, 2023 | 0.2 |
This article includes the following topics:
Forth Insights Overview
Forth Insights is a powerful new business intelligence platform offered by Forth. Leveraging data from the CRM and other select sources, users can slice, transform, visualize, and forecast key metrics about their business. Bringing data to life through rich visualization tools, Forth Insights strives to transform mundane tables of data into living and breathing dashboards that can be leveraged in all aspects of the business. A robust and secure permissions system allows for the sharing of these dashboards with specific individuals or groups within an organization.
Helping you gain an understanding of key functional areas of the business, the dashboards visualize everything from calls that become leads, how much money is being earned in fees in the timespan you decide to view, how long the average account takes to graduate, and dozens of other types of critical metrics. Seeking to enable proactive intelligence for our customers, Forth Insights sits at the center of your daily operations, allowing you to stay ahead of the game by making impactful, data-driven decisions.
Terms you should know
Data Sources - This is where data for a specific Insights data model originates eg: CRM.

Data Model - A data model is a map/network of connections that programmatically describe how various pieces of data from a given data source are related to each other.
Widget - A widget is the smallest component of the Insights platform. It is the visual representation of a singular piece of data. Widgets can be presented as charts, tables, graphs, counters, and many other types of visualizations.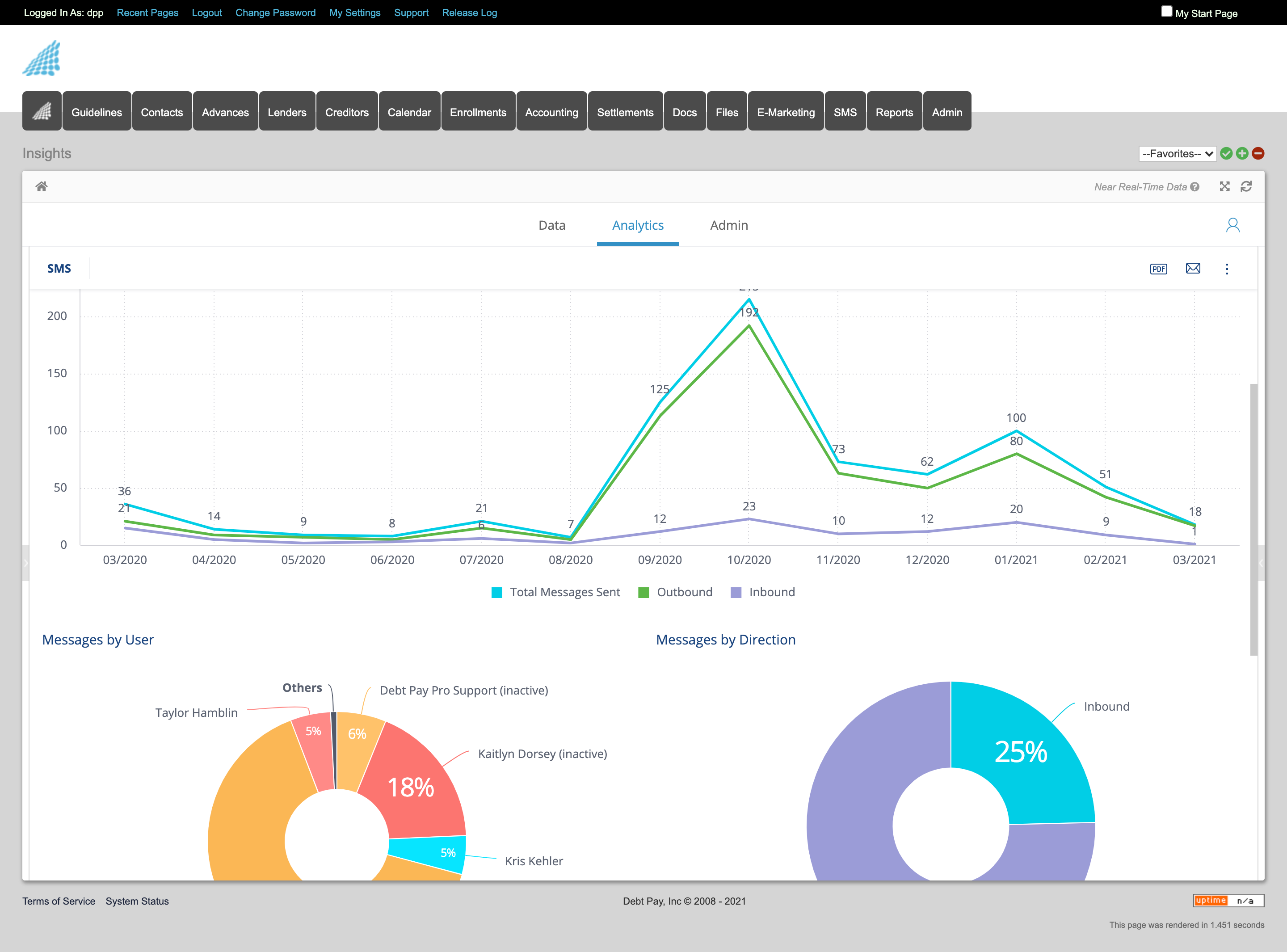 Dashboards - A dashboard is a logical collection of specific widgets that are stored together. Dashboards always contain two pieces: A widget area taking up the majority of the screen, and a collapsible filter sidebar on the right. By default, the filters present within the "Filters" sidebar apply a filter on all widgets present within the dashboard. (N.B.: Advanced use cases do allow certain widgets to ignore these dashboard filters, however this behavior is not present on basic dashboards).
Every dashboard is powered by an underlying data model. Only the information available within the data model is available for use in widgets & eventual display on the dashboard. Access to dashboards is controlled via sharing with users or groups.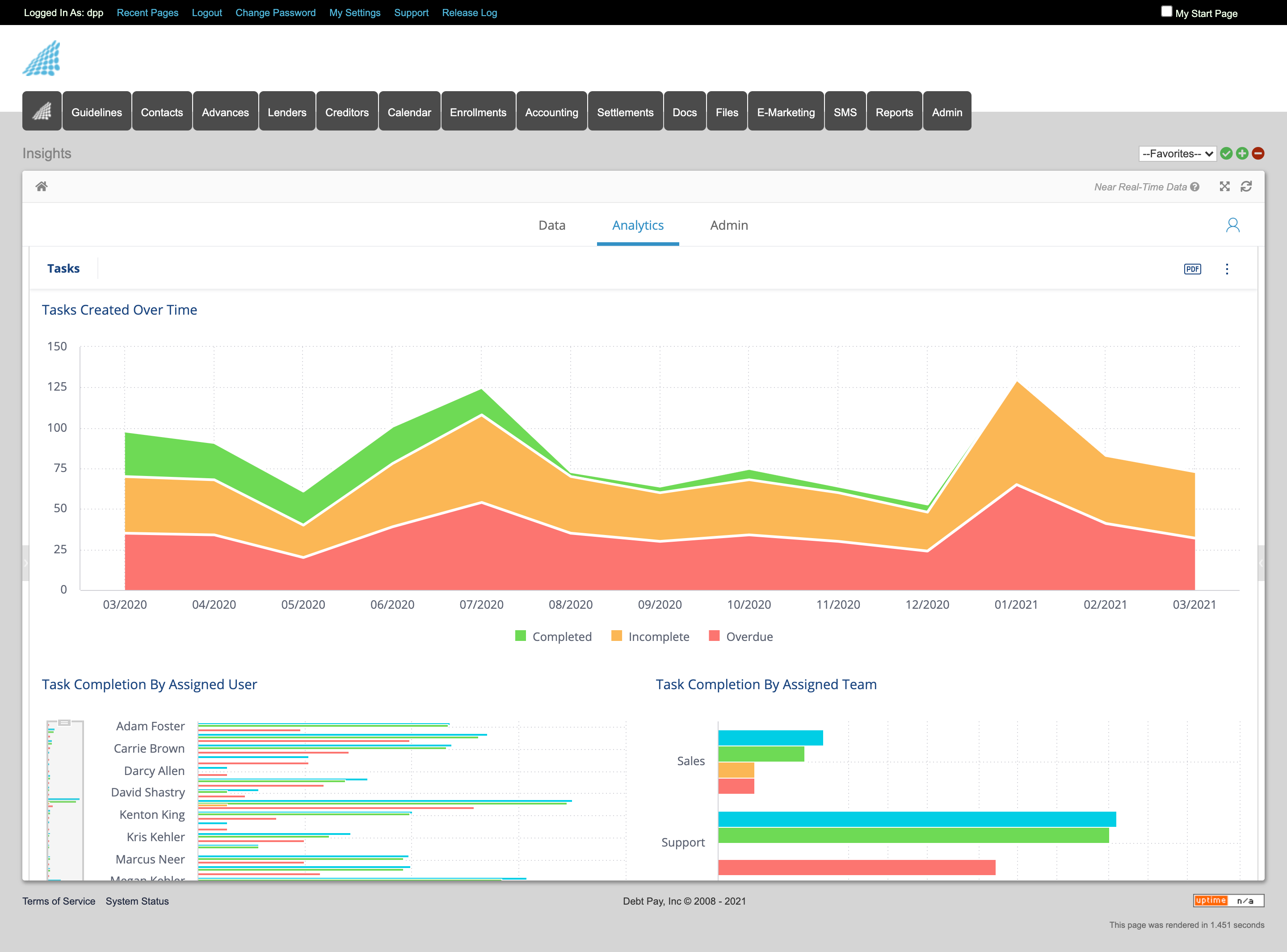 Platform Features & Functionality
Forth Insights provides our clients with several packages with increased features and functionalities. For the basic Viewer role, the platform provides a core suite of dashboards either at the Account level or Company level. Above the Viewer role, the platform provides a Designer role for our client to build their own customized dashboards, this is ideal for data analysts and people who have experience in advanced reporting. In the future, the platform will provide a Data Designer role and an Architect role, which allows our clients to define their own data models and even integrate their own data sources. The tiered functionality makes sure our clients can tailor their own data analytic solutions to their business needs.
Forth Insights provides core dashboards and data models for all packages. Our data models target such industries as Debt Settlement, Student Loans, and Cash Advances, this allows our clients to fully take advantage of the easy-to-use and drag-and-drop approach to create their own data analytic solutions. Our core suite dashboard provides viewers with pre-defined interactive dashboards, i.e., for Debt Settlement we provide 16 dashboards, covering such subjects as Settlements, Fees, and Leads.
Important Details
Unique Email Addresses
Unlike the CRM, the Insights platform requires each user to have a unique email address. Email addresses cannot be shared so please ensure that every user accessing Insights has a unique email address within ForthCRM. Duplicate email addresses may trigger an error and will impact certain aspects of the platform such as dashboard sharing. Please reach out to your account manager if you have questions.
Data Freshness / Sync Interval
The Forth Insights platform operates in a "Near Real Time" fashion, meaning that data is synced periodically from all of the data sources. Many factors influence the specifics of the exact sync time however, the data is usually available for use in Insights between 5-30 minutes after creation.
N.B.: The data sync is a complicated and multivariate process and the interval cannot be decreased or modified in any way.
Article Version History:
| | | |
| --- | --- | --- |
| Version | Effective Date | Description |
| Basic | 02/12/2021 | Initial Release |
| 0.1 | 09/27/2022 | Minor Updates; replaced company references with "Forth". |
| 0.2 | 03/20/2023 | Added header and version control footer; Grammatical review and corrections. |