| | | | |
| --- | --- | --- | --- |
| Doc. Number | Article Title | Effective Date | Version |
| FHC-XX | Earned Performance Fee Reversal | April 13, 2023 | 0.2 |
This article was developed to describe and demonstrate the Earned Performance Fee Reversal feature in the Forth CRM. This feature will allow your company to reverse Earned Performance Fees cleared on a settlement in relation to an individual debt.
This article includes the following topics:
Fee Reversal
NOTE


This feature is available in conjunction with the Earned Performance Fee Control, but is a standalone feature, meaning that you can turn the Earned Performance Fee Control on and off while not affecting functionality of the Earned Performance Fee Reversal.

For our example, begin with the account entitled, "CHECKNGO." This customer paid $60 in Earned Performance fees on this account.
To reverse a portion of those fees, click on the "Contacts" tab, select a client, and from the Client Dashboard, click on"Enrollment" in the Navigation Bar.

You should now see the screen shown below.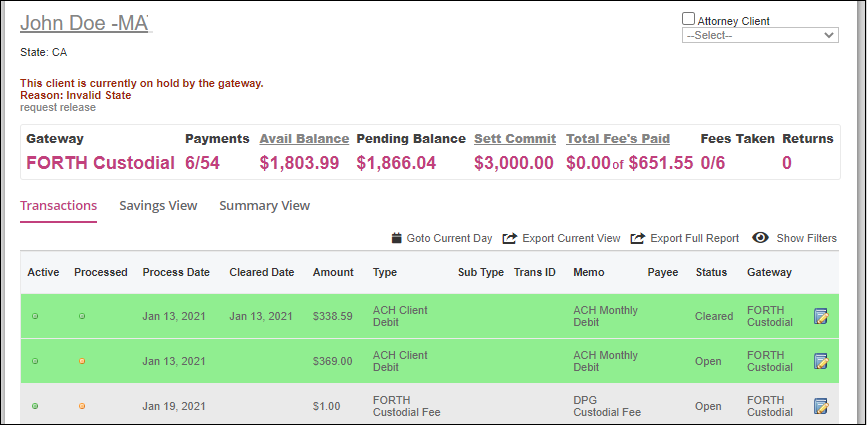 Next, identify the individual fee that you wish to reverse. In this situation, we will scroll down the list to reverse the $24 Fee shown here.

Return to the top of the page and click "Advance Funds" from the far right of the Navigation Bar. 

An "Account-to-Client Transfer" dialog box now opens that allows you to transfer a specified amount from a payee account to a client account.
In the "Associated Payment" dropdown menu, for our example, click "Earned Performance Fee". 

In this case, we will reverse the entire $24.00 Fee by entering this amount in the "Transfer Amount" field.
NOTE: 

You can reverse the entire Earned Performance Fee or a portion of it.

Enter any key details in the "Memo" field (such as the word "Reversal") and then click the "Save" button as shown below.
NOTE: 

Leave the recoup date blank so it acts as a reversal, and not a recoup.

The reversal is now complete and you should see the top of the page update like the one below. When you hover over the client's name, you will see a "Back to Client Dashboard" message appear as a reminder. Click the client's name.

Click on the customer's name, as shown above, to return to the Client Dashboard, then go to the customer's "Debts" nested tab, You now see that it is no longer $60.00 in Earned Performance Fees cleared. 
The $24.00 that was reversed has been removed from this listed dollar amount.
Fee Control
See the article on Earned Performance Fee Control.
Article Version History: 
| | | |
| --- | --- | --- |
| Version | Effective Date | Description |
| Basic | 02/03/2022 | Initial Release |
| 0.1 | 05/09/2022 | Minor Updates |
| 0.2 | 04/13/2023 | Added header and version control footer; Refreshed all screenshots to reflect the current user interface. |
For more information, email us at Support@setforth.com.