| | | | |
| --- | --- | --- | --- |
| Doc. Number | Article Title | Effective Date | Version |
| FHC-XX | Canceling a Settlement Offer | April 21, 2023 | 0.3 |
This article was developed to describe the step-by-step process of canceling a settlement offer within the CRM.
To Cancel a Settlement Offer, begin by clicking the Settlements tab on the top toolbar. This will take you to the Settlements & Negotiations page (see the image below).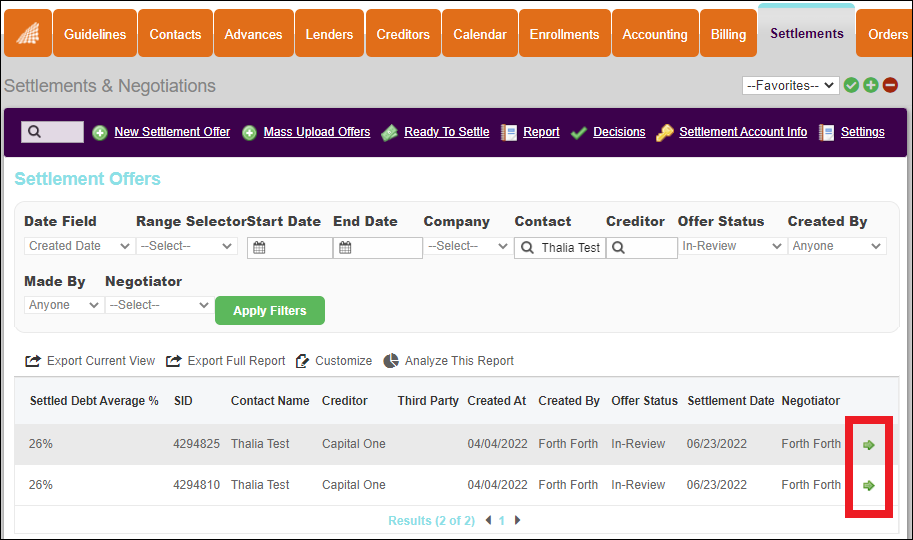 Type in the desired client in the "Contact" window and then click on the green Apply Filter button.
This will create a list of all the settlement offers submitted for this client. Select the settlement offer you wish to cancel by clicking on the green arrow icon located on the far right of the entry (see the red highlighted area above). This will direct you to the following page: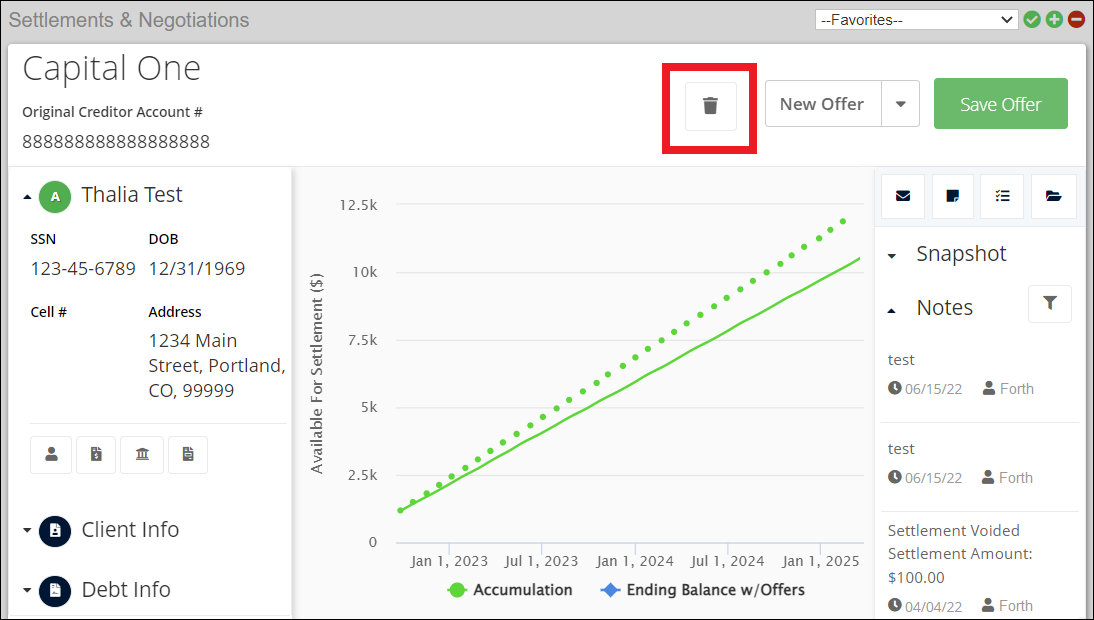 Click on the trash can icon "Delete Offer" link (see the red highlighted area in the image above) and a window will pop up asking if you are sure you want to delete this offer.

Once you select "OK" the settlement offer will be voided in the system and all settlement payments scheduled will be voided from the client's payment schedule.
Article Version History: 
| | | |
| --- | --- | --- |
| Version | Effective Date | Description |
| Basic | 12/26/2016 | Initial Release |
| 0.1 | 8/2/2022 | Updated screenshots and language for improved legibility |
| 0.2 | 12/28/2022 | Added header and Version Control Footer |
| 0.3 | 04/21/2023 | Refreshed screenshot to reflect the current user interface and remove the previous company name. |