Overview
The Uncollected Settlements report is a report that displays all unpaid settlements for the last 90 days.  DPG defines uncollected specifically as anything that has not been cleared and is still in PENDING, LOW BALANCE, or SHIPPED status.  This report can be used to reconcile and track unpaid debts, minimize missed payments, and avoid broken/VOIDED settlements.


Purpose
This report can be used as a tool to manage all unpaid or uncleared settlement payments including scheduled direct payments. Some of the features of this report include:
Ability to sort by oldest outstanding settlement within last 90 days

Research checks shipped that should have been cashed/cleared

Display total amount of settlements that are unpaid for a given time period


Navigation:   Accounting Tab/ Settlements - Uncollected (Left hand side in grey type)


When you click the Settlements - Uncollected report link, the report displays the information as follows: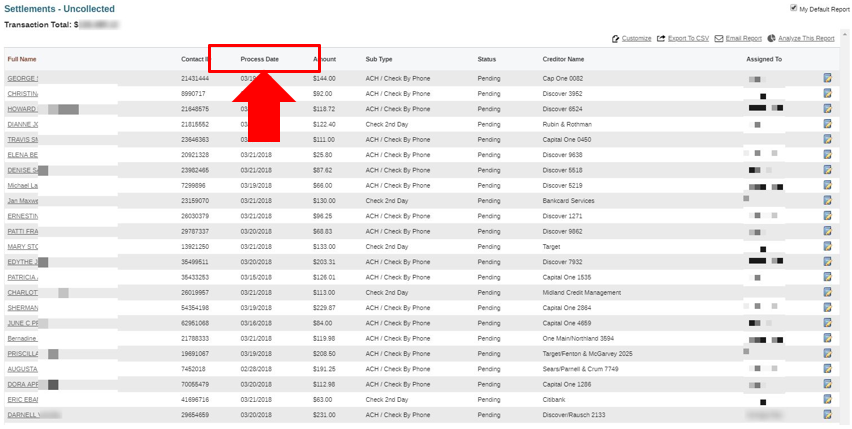 DPG suggests addressing the oldest settlements first to minimize potentially broken/voided settlements.   To change the order by oldest settlement, click the Process Date column and the page will refresh to display the results.  If you prefer to see the newest settlements first, click the Process Date again and the page will refresh to order by newest date.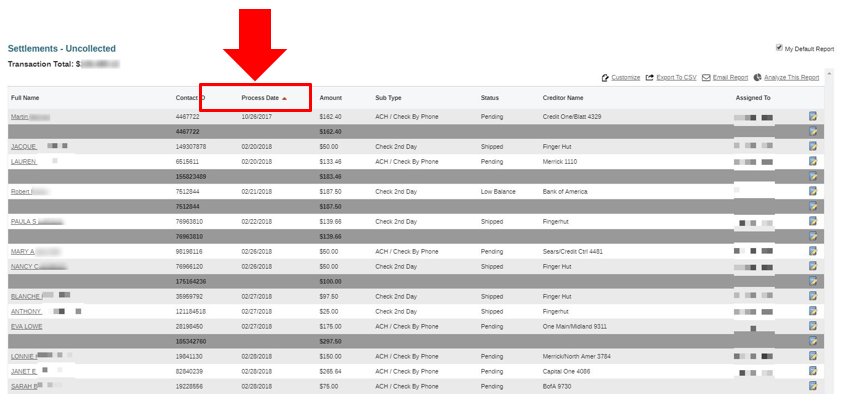 Viewing Uncollected Direct Payments:
To view by payment type, you can click the Sub Type column and the page will sort by each payment type.   For Direct Payments, click the Sub Type twice to show these results at top of the page. Clicking once will show Direct Pay, but you will have to scroll to the bottom - since the list is sorted alphabetically by payment type. Clicking twice reverses the sort order showing Direct Payments at the top of the display.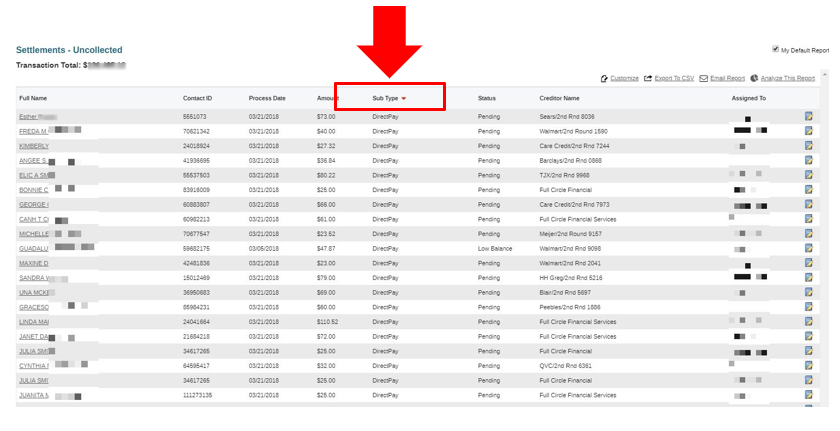 This is a summary of some of the features available to sort/view/ act upon on using this report.
For settlements marked low balance, we suggests using the low balance forecast report to perform advance funds from your company's reserve account.   If you do not have a reserve account or have additional questions about this report, please contact DPG at Settlements@debtpaygateway.com for additional assistance.