| | | | |
| --- | --- | --- | --- |
| Doc. Number | Article Title | Effective Date | Version |
| FHC-XX | Low Balance Forecast Report | March 07, 2023 | 1.0 |
Overview
The "Low Balance Forecast" report is a predictive reporting tool that forecasts future low-balance payments based on the consumer's payment schedule, monthly draft deposits, fees, etc.
Note: The Low Balance Forecast Report only functions for clients enrolled with ForthPay. The report will not function for any other Payment Gateways.
Purpose
This report can be used to manage all low-balance settlement payments including scheduled Direct Pay transactions. Some of the features of this report include:
Ability to perform advances directly on the report,

Ability to select a 3 -14 day window of future low balance settlements

Display current balance and future balance on the date of low balance

Direct link to client dashboard - to conduct further research

To begin, you can log in to the Forth CRM and click the Reports tab.

On the "Reports" page, select the Low Balance Forecast report.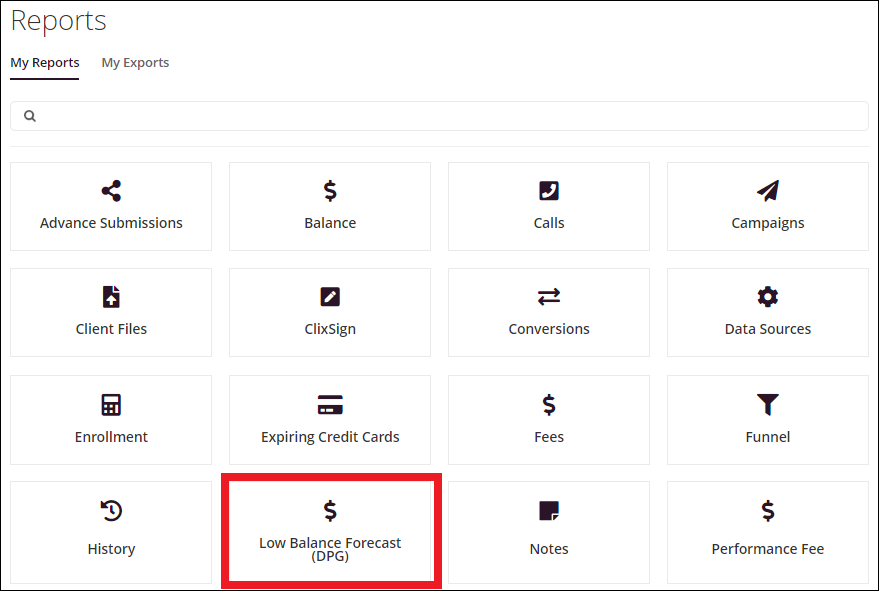 Next, go to the top of the report table and enter the number of business days ahead in the dropdown menu that you wish the report to check. In the example, we are looking as far as 14 business days ahead for clients whose settlement payments will draw the balance negative.
NOTE: Report defaults to 5 business days, but can be reduced to 3 business days out or expanded up to 14 business days out.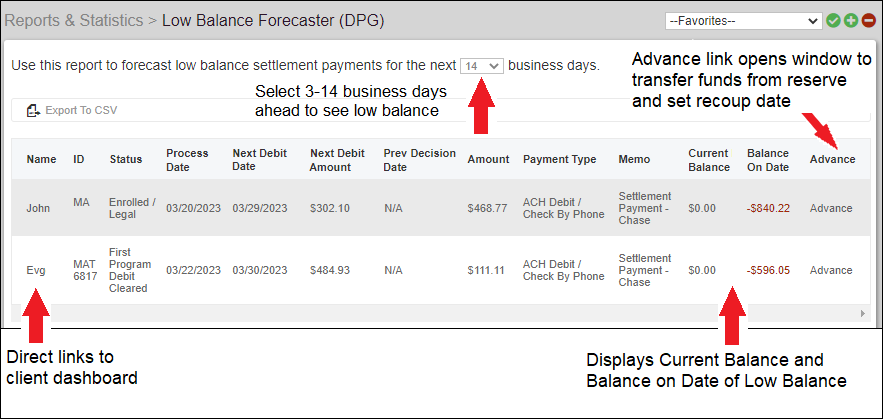 Now viewing the report table the "Balance On Date" (blue) is the predicted balance after all account activity including the settlement payment (red). The client's current balance is also displayed (orange).
To see any low balance consumers set up with Direct Payment ACH Credits, Forth recommends sorting the "Payment Type" field (see the red highlight below) to Direct Pay by clicking on the column header. The presented list will help your settlements team to decide whether to pay/advance or leave the payment low balance/unpaid.

You will now want to set up an "Account to Client" transfer to cover the balance. Click on the "Advance" button in the final column of the report table on the corresponding transaction to open the layover window to set up the advance.

Now set the advance (the "to Contact" will automatically be added). Make sure to set a recoup date for the transfer back to the "From Account". Click save to have a transfer set and the balance covered.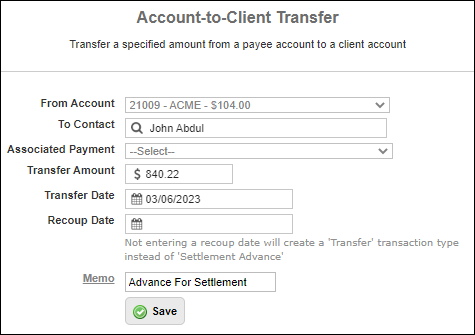 Article Version History:
| | | |
| --- | --- | --- |
| Version | Effective Date | Description |
| Basic | 03/20/2018 | Initial Release |
| 0.1 | 04/28/2021 | Minor Updates |
| 0.2 | 03/06/2023 | Added header and version control footer; Refreshed all screenshots to reflect the current user interface. |
| 1.0 | 03/07/2023 | Combined the "Low Balance Forecaster Report" into this article. |