| | | | |
| --- | --- | --- | --- |
| Doc. Number | Article Title | Effective Date | Version |
| FHC-XX | Direct Pay Set Up - Midland Credit Management | November 09, 2023 | 0.4 |


This document discusses the process that applies ONLY to Midland Credit Management (MCM) settlements. For other creditors, Forth will release other documents over time outlining their specific procedures.
The following provides an overview of the settlement negotiating process and describes the current procedures required to convert settlement payments from an existing payment type to Direct Pay (Click here to learn more about Direct Pay)
 Overview:   
For normal ACH/Check-by-phone payment types, there are five (5) steps involved in the negotiating process. With Direct Pay, there is no longer a need to call creditors to set up scheduled payments.

🔺For MCM settlements, the FRESH EXPRESS payment processing team cannot accept direct pay as a payment form.  Please refer to this guide or contact MCM if you are unsure of which entity you are dealing with to ensure proper payment routing. Please always refer to the MCM account # when determining which entity you are selecting and the settlement letter format.
Scheduling Settlements:
For Direct Pay payments, the information filled out in the Creditor Payee Details section is significantly changed. Once you have selected the payment method under the payment terms as direct pay, the CREDITOR PAYEE DETAILS section (left-hand side of the screen) updates with Direct Pay Details. Select the appropriate creditor. In this example, we are choosing the main account of Midland Credit Management - xxx1813 because the settlement reference # begins with "8". 
The reference # is taken from the settlement letter: MCM Account Number field as shown.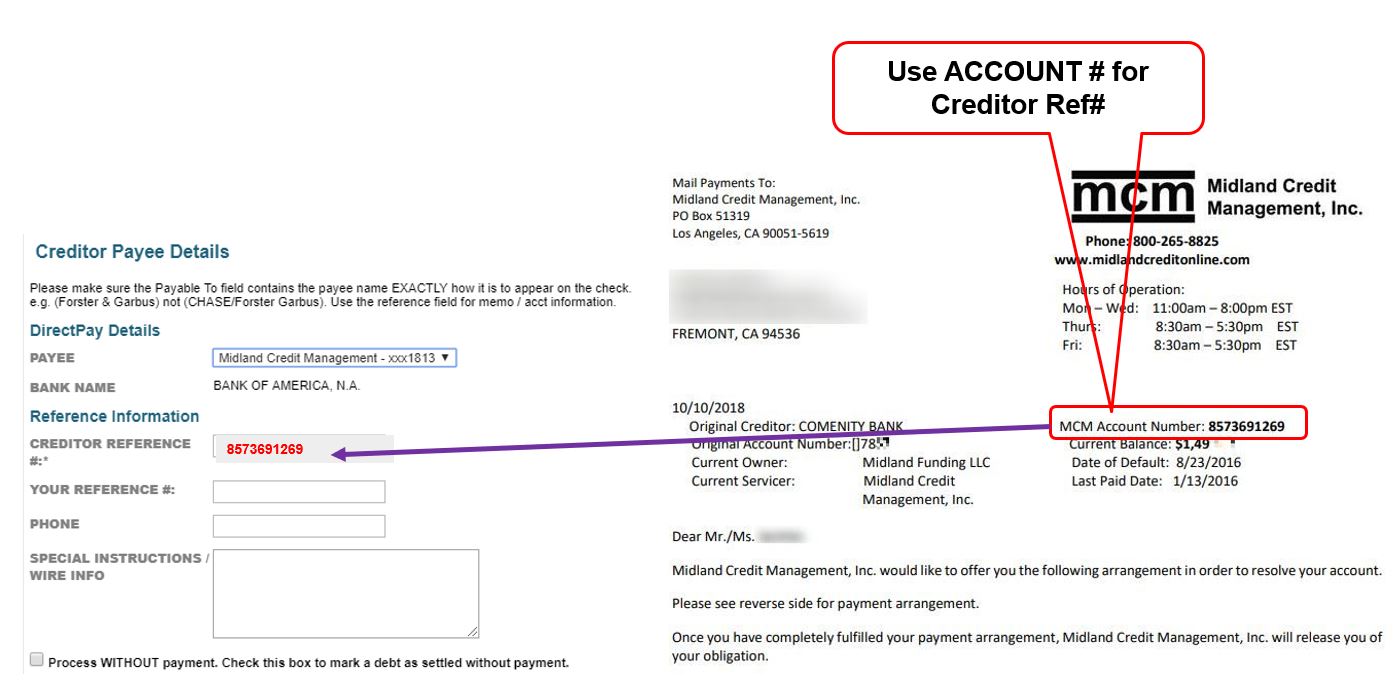 Please copy the reference number exactly as listed on the settlement letter agreement to ensure the proper consumer's account is credited when paid. Please note the purple arrow that shows the specific info that should be copied over to the creditor reference field. Do not include the consumer's name in parenthesis, append the reference field with words like File # or Account#, etc., or shorten the reference number field. Failure to adhere to this process may delay or cause the payment file to fail and require manual intervention.  Payments could possibly be lost and show as UNPAID.   
Please, double-check check the entries are correct before saving the settlement.
Direct Pay Exception:
Forth has been informed that some MCM settlements cannot be converted. FRESH EXPRESS must be paid as a shipped check or check by phone payment.
Accounts that have reference #s beginning with "3" have also been flagged by MCM to be processed by a new payment processing system. When entering a settlement that account # begins with a "3", choose from the drop-down list,  MCM REF 3XXX.
MCM just released a new settlement letter for accounts beginning with "3".   If your team encounters this letter, the settlement begins with "3" and should be set up accordingly.
Other Accounts:
The following account IS NOT DIRECT PAY ELIGIBLE:
Please inform your team to set these up as checks by phone or arrange to ship a check to the creditor.
FRESH EXPRESS:
If you are unsure about the payment methodology set up for any reason, please contact your MCM representative, on how the payment should be made.

Settlement Payment Decisions:
IMPORTANT: Moving forward, MCM settlements that are set up as Direct Pay will no longer be viewable on the Decisions Page.   
Why?   
Forth will be sending funds to creditors based on the process date for MCM settlements eliminating your daily task of approving each settlement payment. Furthermore, settlement payments will be paid only if the consumer has sufficient funds in their special purpose account. Any shortage in funds will result in the transaction remaining in Low Balance status until funds are available or advanced to the client.  
What about low-balance accounts?   How do I advance if the decisions page is gone?
To help you manage this, Forth has created reports that enable you to make advances to address these exceptions.
Forth Reports:
Uncollected Settlements - lists out all uncollected/unpaid settlements in pending, shipped, or low balance status. (

Click here to learn more

)


Low Balance Forecast Report - list out all potential low balance accounts up to two (2) weeks out.  Features an advance button to facilitate on-the-fly account adjustments. (

Click here to learn more

)
Lastly, at the beginning of each month, MCM will be sending out its own Uncollected Debt Payments report to you. It will STILL be your responsibility to review these reports and manage these missing or late payments directly with MCM.  
 Questions:
Should you have any questions about this process or need further information, feel free to contact us at settlements@setforth.com.
Article Version History: 
| | | |
| --- | --- | --- |
| Version | Effective Date | Description |
| Basic | 10/30/2018 | Initial Release |
| 0.1 | 07/07/2021 | Formatting updates only - no subject matter updates |
| 0.2 | 01/20/2023 | Replaced company references with Forth for rebranding; Added header and version control footers |
| 0.3 | 09/28/2023 | Updated the first screenshot and made minor grammatical updates. |
| 0.4 | 11/09/2023 | Updated title of the article to match the style of other Direct Pay articles. |
|   |   |   |
|   |   |   |