Contents
2021 | June
Back in March we introduced you to the new DebtPaypro triggers system. We are happy to announce that your account manager will be contacting you via email by the end of July with instructions on how to activate and use the new functionality.
This product enhancement comes at no cost to you, but at a great increase in productivity!
The ideaBoard is where you can go to share and see ideas submitted by other Forth users. This helps Forth plan future product enhancements and projects better so we can benefit our entire community. 
This is what the ideaBoard currently looks like. We are working on upgrading the site and will let you know as soon as it's ready. 

The Process
Before we discuss the process, it's important to understand that Forth has projects and feature goals created in advance for the coming year. With that in mind, the process is simple. You submit the idea, then every 2 weeks the Review Board goes over all the newly submitted ideas and assigns an action type to them. Action types are:
Planned - we are able to put the idea into our current development plans
Needs Review - idea submitted, but not yet reviewed
Future consideration - the idea will be considered for a future roadmap
Completed - idea developed and live in system
If an idea is archived, it doesn't mean it won't eventually be put on our roadmap. The Review Board re-evaluates archived ideas from time-to-time. If however, the idea is extremely important to your business, we offer additional options:
Contact your account manager or support team to find a work-around; or
We can discuss custom building your idea just for your company for a fee. Contact your account manager to learn more.
Please keep your ideas coming -
we are reviewing and using as many as we can!
Beginning with this newsletter, every month will contain a  Monthly ideaBoard Highlights section. Here you can find the previous month's idea submissions by status and category. 
For example, the June newsletter includes the ideaBoard's information for April as May's information was not up to date in time for the June release. This is what it will look like: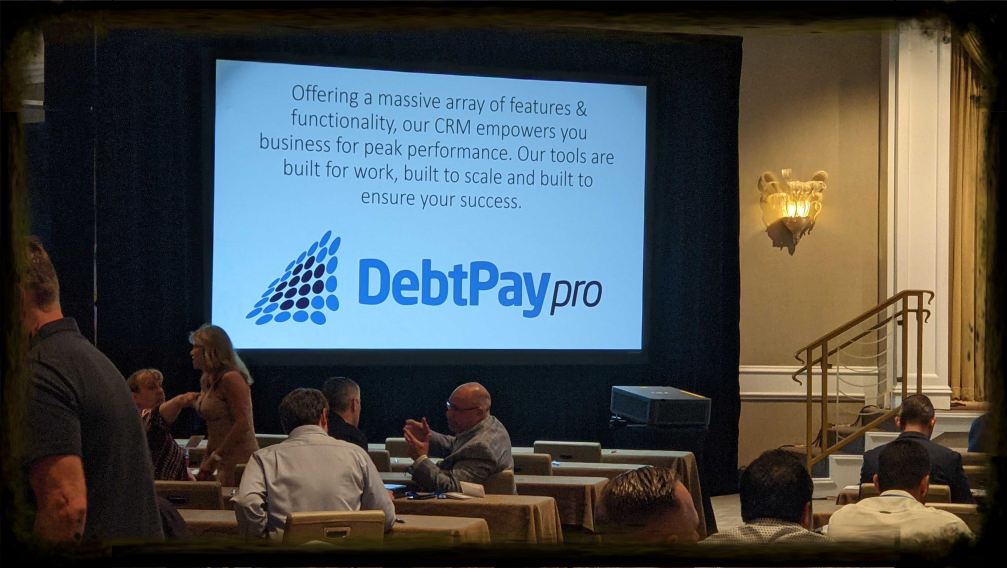 On May 16th and 17th, DebtPaypro's leadership attended the American FairCredit Council Conference in Miami, FL. The AFCC is the only Credit Advocacy Association that fights for consumer rights for debt settlement. It is the largest debt settlement industry specific conference in the U.S.
"The event was very valuable and well attended," said Carrie Brown, Director, Client Services. "It was the largest crowd I think this event has ever had and I think many people still didn't show because of Covid which is an indicator of the industry growth.
We'd also like to acknowledge, Tony Provenzano, CRO at Acquire Interactive for being this year's DebtPaypro ipad winner.
Kris Kehler, DebtPaypro CEO with Tony Provenzano
Feel free to view our booth presentation below.
Did you know that tasks can be extremely helpful in tracking key events that take place in a contact record, and identifying who is responsible for completing those tasks? This functionality is great for both users and managers. 

For users, creating a task can be based on a trigger as part of a workflow, meaning that when you activate, call, etc. a client, a task will automatically be initiated making sure the user completes the next step properly. 
The users can also create custom tasks, which can be assigned to themselves, a team member, an entire team, or even a contact. You can enable email notifications in the task settings containing the details of the task to be sent to the user or team, as well as a copy sent to their manager in the task settings.
For managers, all of the above applies with a few additional benefits. This includes being copied on all tasks, specific tasks (usually pertaining to a workflow), tasks created by selected users, etc. They can be set up to be added to the manager's calendar, setting up alerts to get a status on the task, and more.
TIPS
From the Tasks tab, in the Client Dashboard you can sort the tasks by new or completed. In addition, since tasks are created with due dates, you can sort them by ascending or descending order.
From the Calendar tab > Tasks you can view the notifications for tasks. You can adjust the settings so tasks are displayed for the day, user, etc. you want to view.
To learn more about tasks and task settings, check out our help articles and videos.
CONFIDENTIALITY NOTICE: This e-mail transmission, and any documents, files or previous e-mail messages attached to it may contain confidential information that is legally privileged. If you are not the intended recipient, or a person responsible for delivering it to the intended recipient, you are hereby notified that any disclosure, copying, distribution or use of any of the information contained in or attached to this transmission is STRICTLY PROHIBITED. If you have received this transmission in error, please immediately notify the sender. Please destroy the original transmission and its attachments without reading or saving in any manner.