Explanations On Advance Start Up Page
New Advance: Start by clicking New Advance from the Client Dashboard.

---
Advance Assignments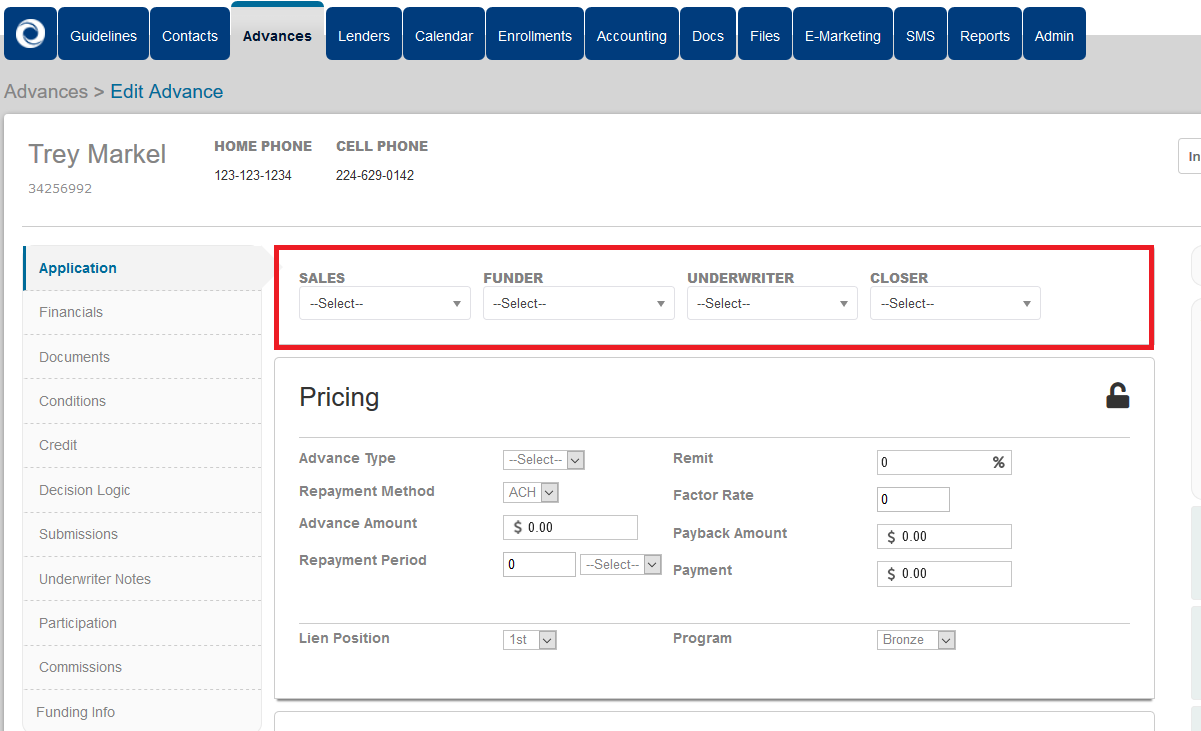 Sales: Select the Sales User that is assigned to this advance.
Funder: Select the associated Funder assigned to the advance.
Keep in mind that Funder or "lender" names will not show in this drop down box unless the active check box is selected on that particular Lender from the Lenders tab. 
Underwriter: Assign an Underwriter to the advance.
Closer: Assign a Closer to the advance.
---
Pricing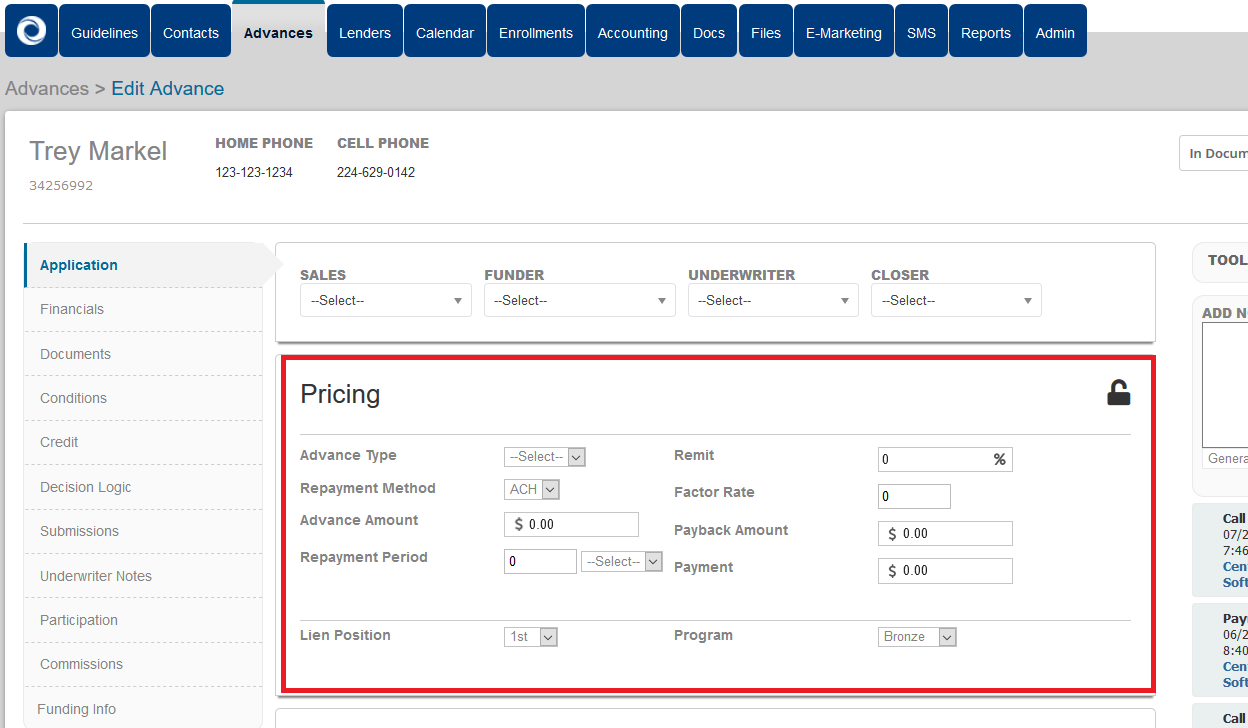 Advance Types: Add on, New or Renewal
Repayment Method: ACH or CC
Advance Amount
Repayment Period: Days, Weeks or Months
Remit: (used for CC transactions)
Factor Rate
Payback Amount: (populated automatically based on the Advance Amount and Factor Rate)
Payment: (populated automatically based on the Payback amount and Repayment Period)
---
Application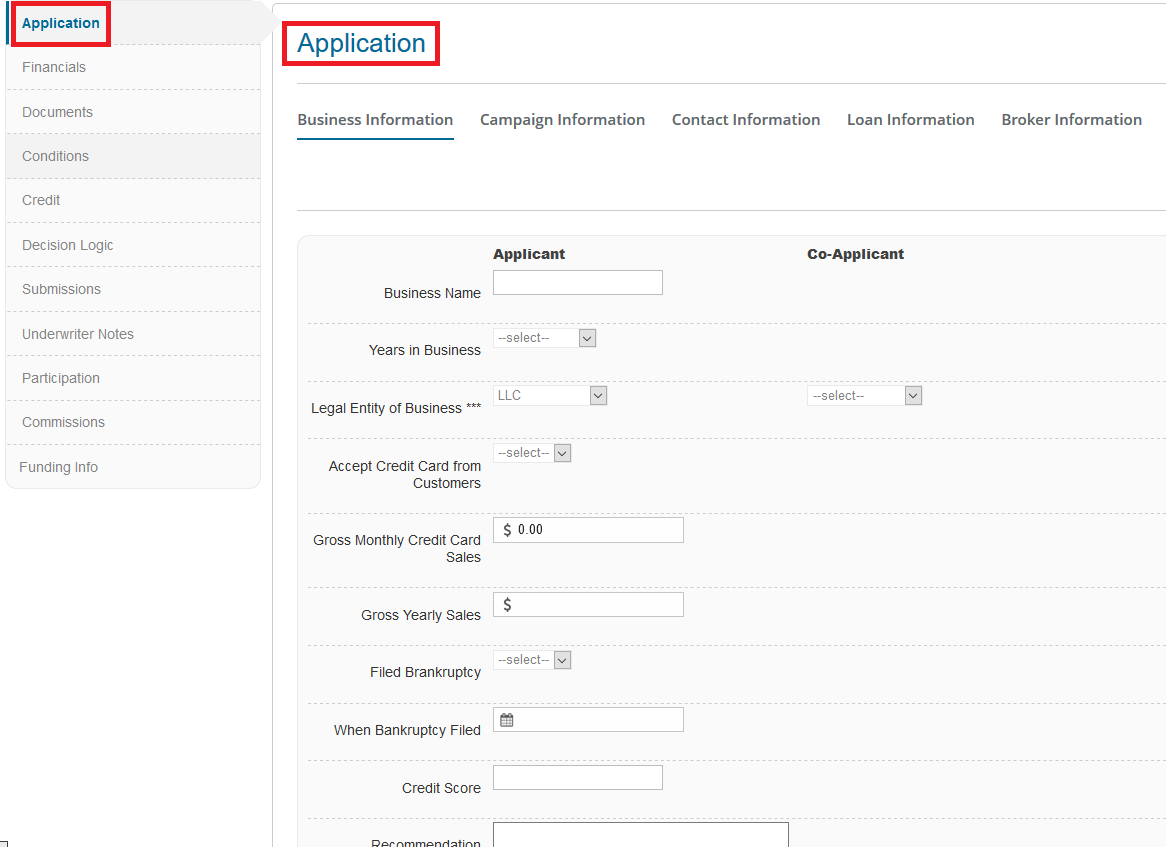 ---
Financials
Bank Statements: You can input Bank Statement financials and Credit Card processing statement financials.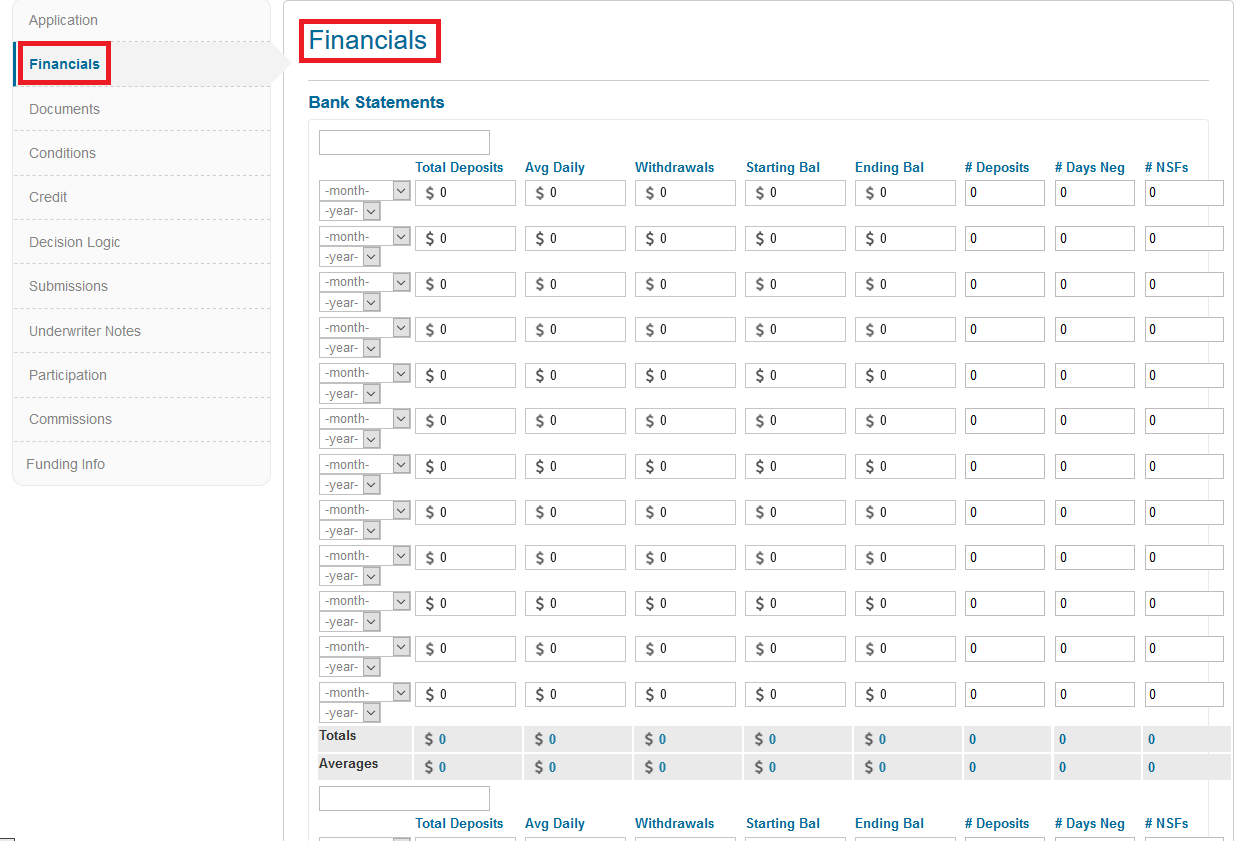 ---
Documents
Generate PDF: Generate a PDF for the client to ClixSign.
Zip Documents: Zip Documents to send.
Upload Files: Upload files, (contracts, agreements, credit report statements, etc..)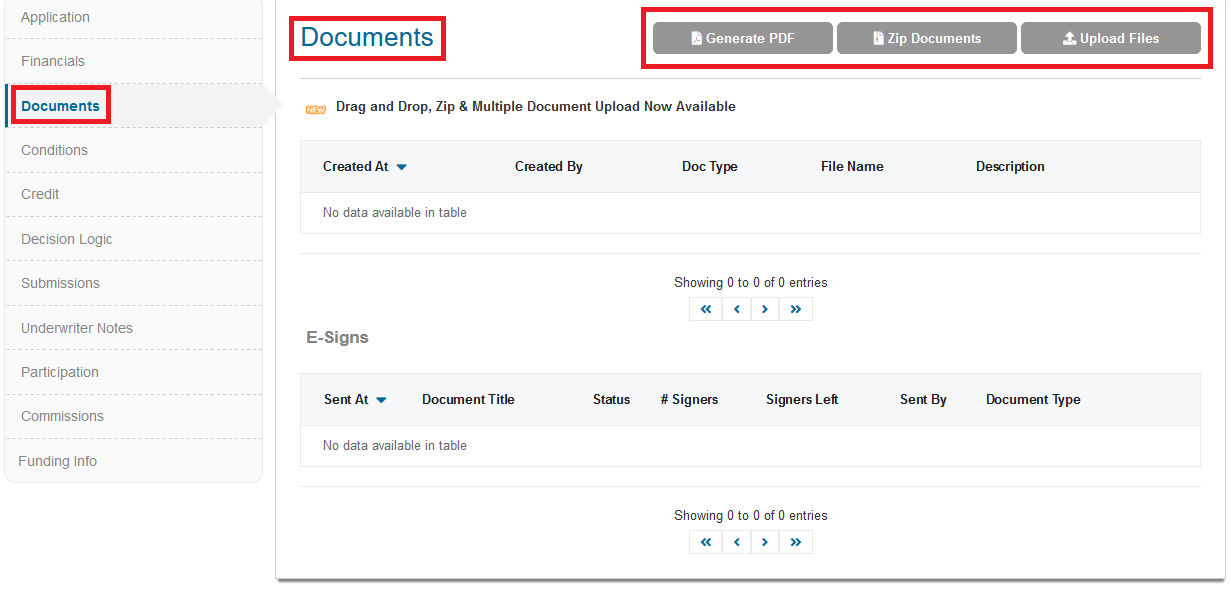 ---
Conditions
Add Conditions: Conditions are requirements that need to be met in order for the Advance process to move forward.
Document Conditions: Requires the specified document to be uploaded.
Task Conditions: Require the specified task to be completed.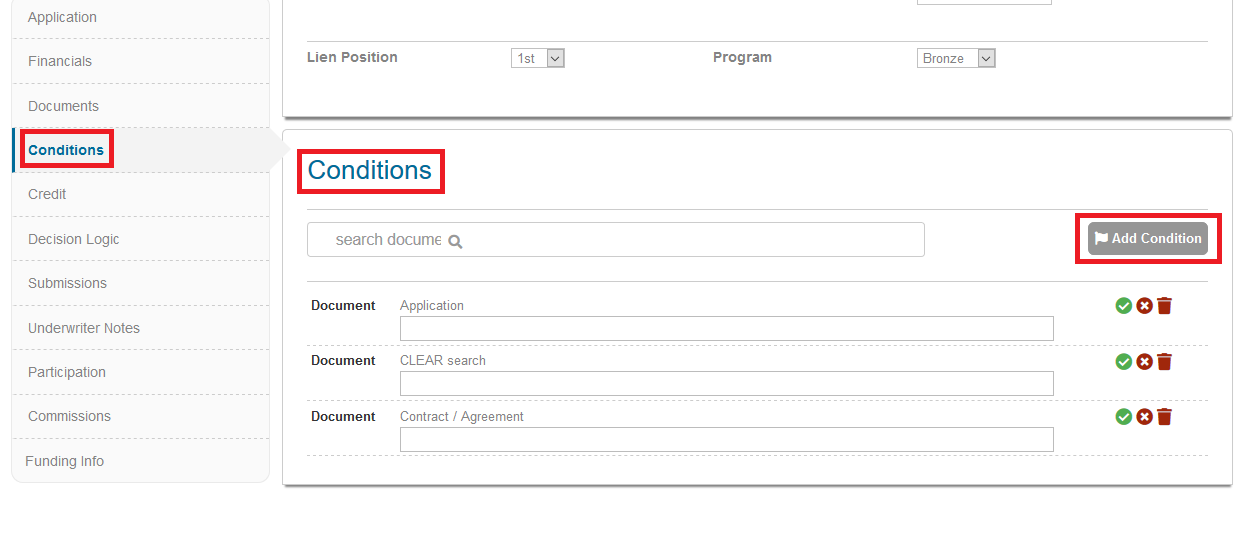 ---
Credit
Pull Credit: If your CRM is integrated with a Credit / Finance platform, you can pull the owner's credit. If integrated with Decision Logic, you'll gain access to the Decision Logic tab.

---
Submissions
From here you have the ability to submit to multiple lending institutions.
Click on new submission and you can package up all of the documents you want to send.
You can select the specific lending institutions you want to send the documents to and it should pre-populate their contact's email addresses.
You also have the ability to write a message to these lenders.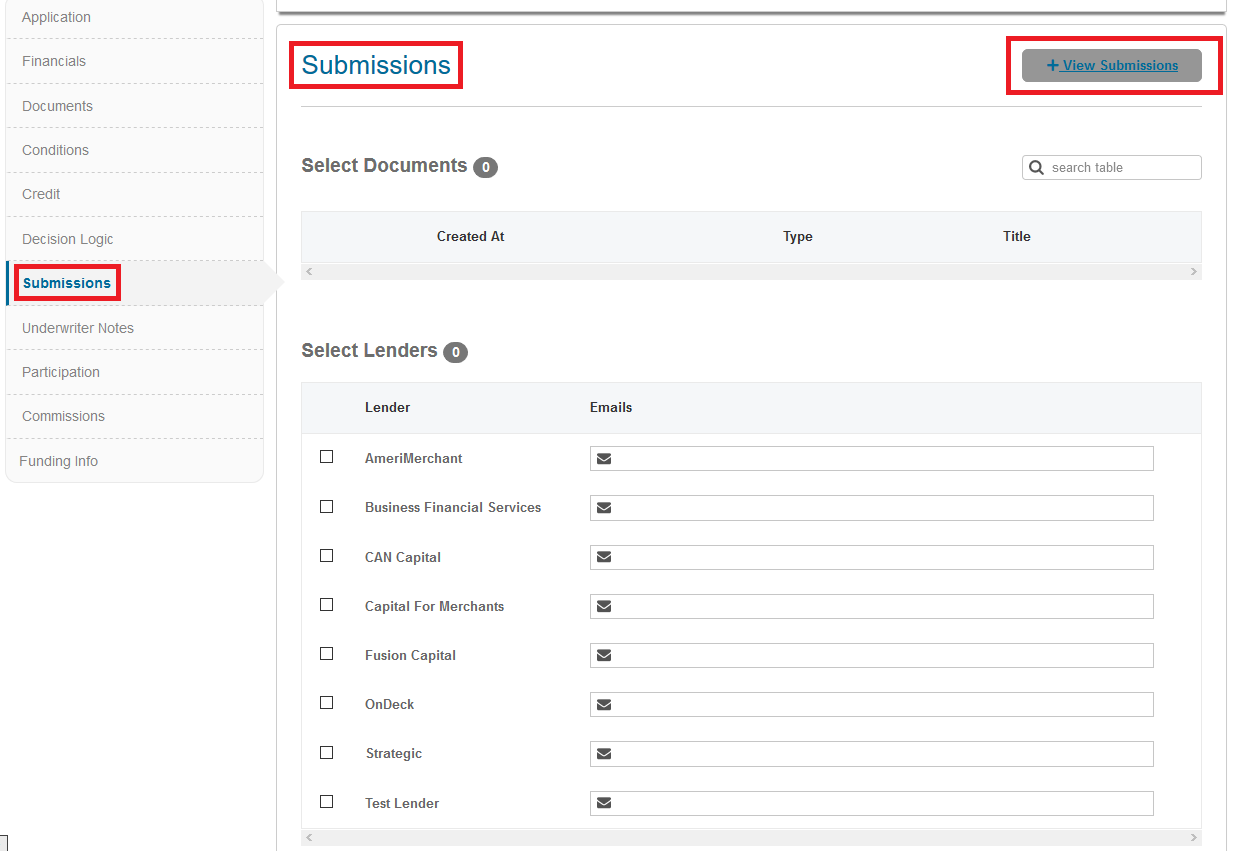 ---
Underwriter Notes
Here you have the ability to take notes on specific sections.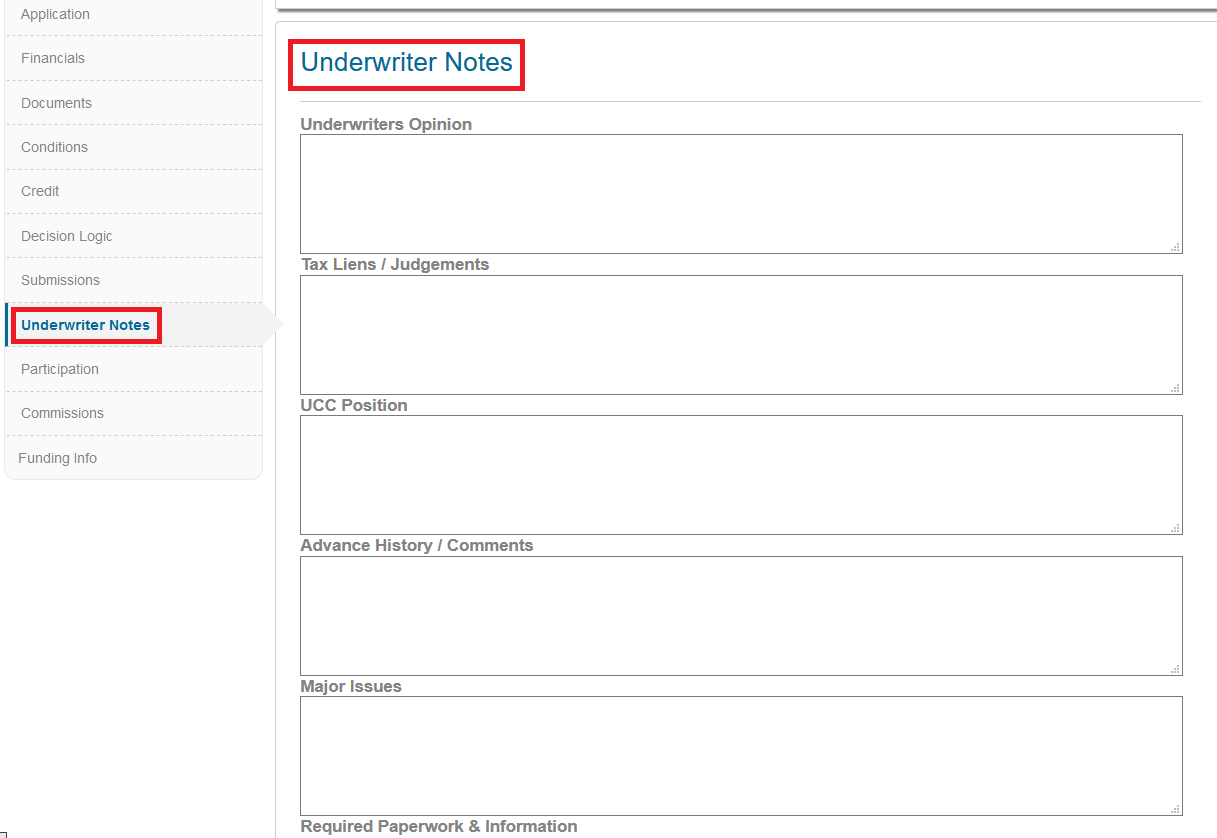 ---
Participation
Syndicate Partners: Here you can select the syndication partners that are participating in this deal, and allocate their participation amount.
Fee %: You can also apply a servicing fee. After entering a percentage, choose whether the fee will be based on the advance amount, the payback amount or per advance payment.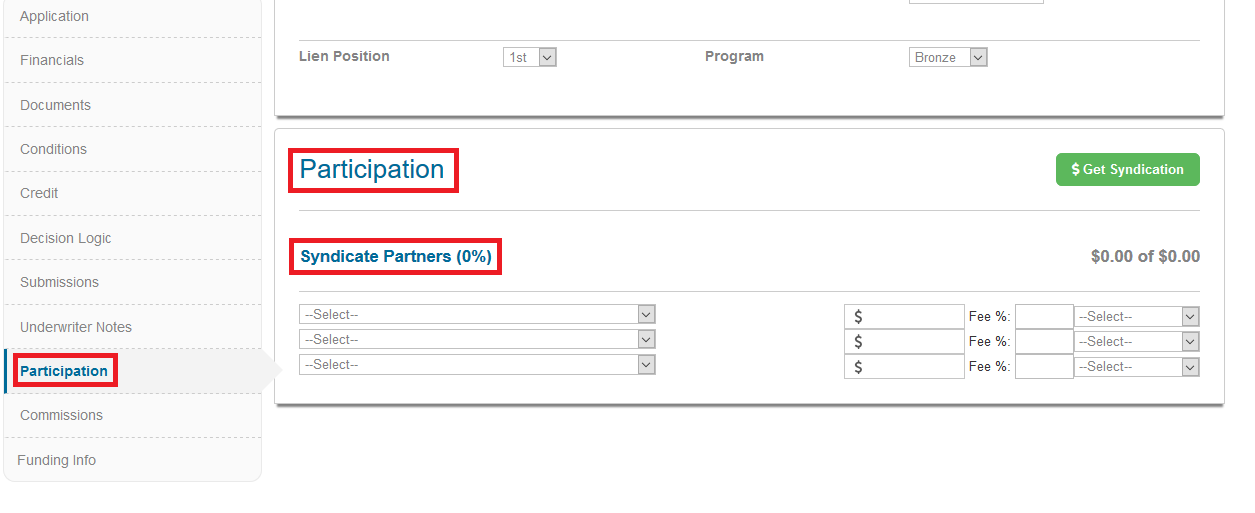 ---
Commissions
After an advance is assigned, you can then track commissions.
Upfront %: An upfront percentage
Upfront $: An upfront dollar amount
Recurring %: A recurring percentage
Recurring $: A recurring dollar amount
This is all based on the Advance amount, Payback amount or the profit for that particular advance.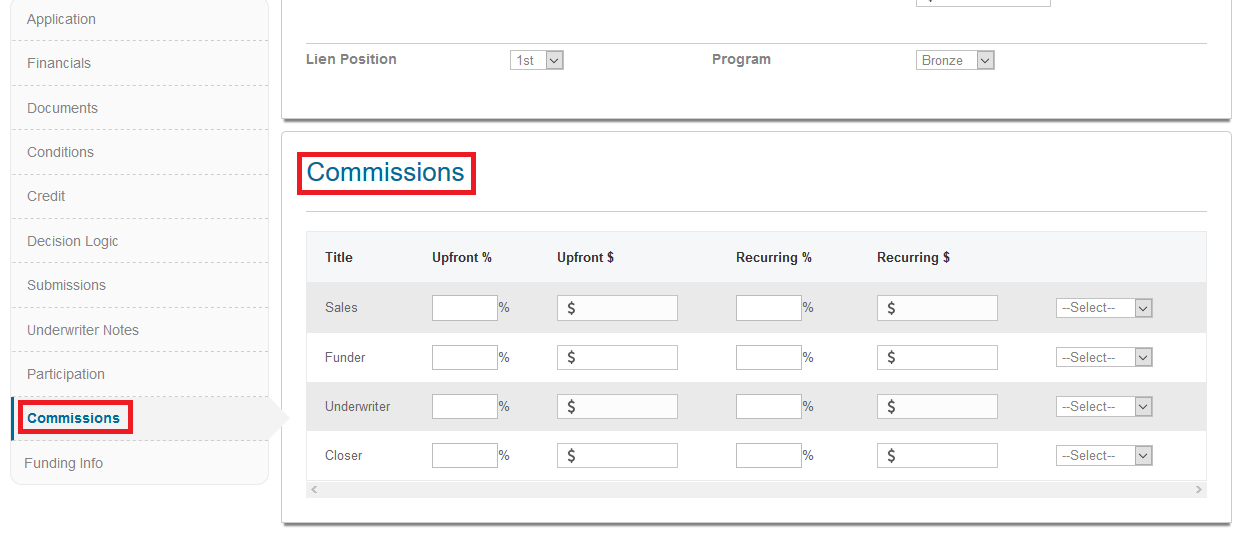 ---
Funding Info
All of the funding information needs to be entered before setting the advance status into In-Repayment (Funded / Completed status from within Advance Settings).
Merchant Bank Account

Routing Number
Account Number
Account Type
Name On Account
ACH Gateway

Merchant Fees

Origination Fee
Program Fee
Wire Fee
Other Fee

Funding Details

Contract Date
Contract #
Funding Date
Wire/Conf Number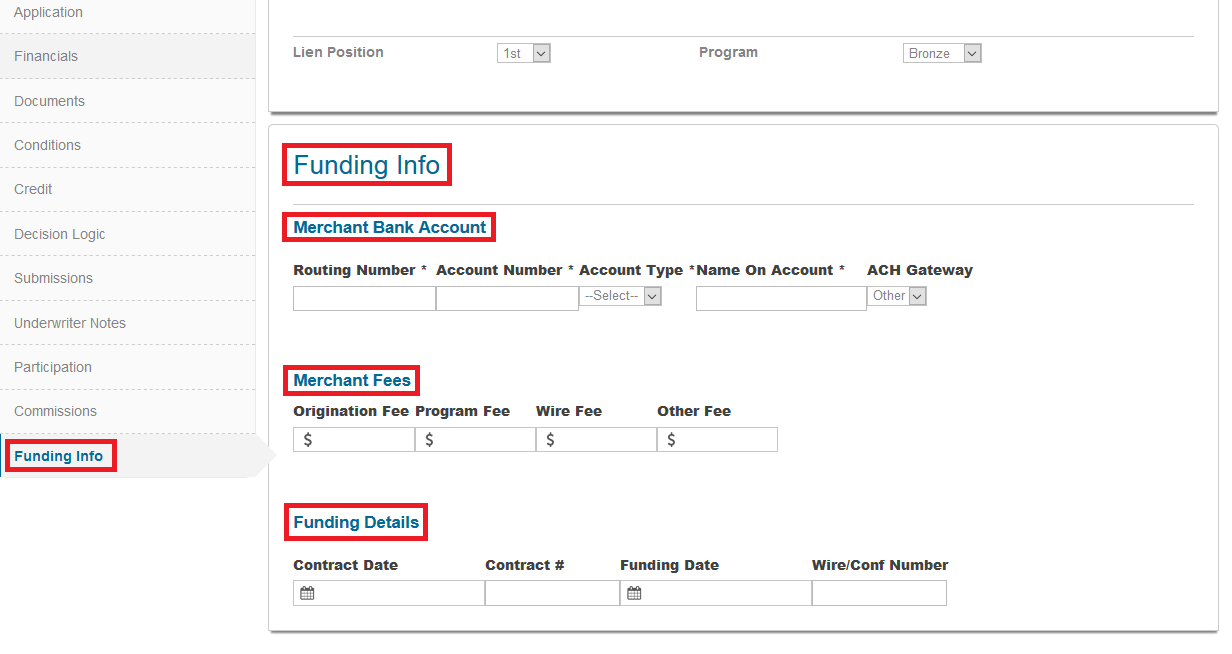 ---
Payments
Payments Tab: This tab will appear once all of the pricing and funding info has been filled out and the advance gets put into the 'In-Repayment' status. 
ACH Auto Drafting: Enable 'ACH-Auto Drafting' for this advance and click 'Save File' in order for payments auto draft depending on if this advance's repayment period is set to daily, weekly, or monthly. 
Override Payment Option: You have the ability to override the payment amount for an advance for a specified amount and time. After the override completed date has passed, the payment amount on the advance will go back to what is saved in the advances pricing section.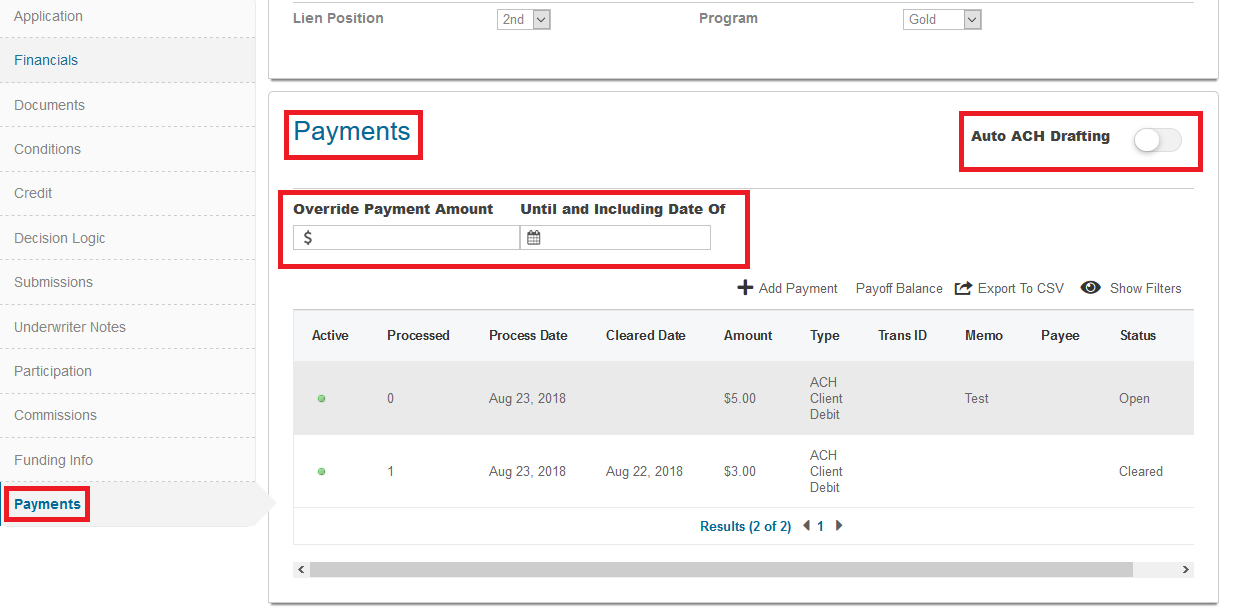 ---