| | | | |
| --- | --- | --- | --- |
| Doc. Number | Article Title | Effective Date | Version |
| FHC-XX | Enrollment Settings | August 1, 2022 | Basic |
This article was developed to describe all of the sections located on the Enrollment Settings page, found at the Enrollments tab > Settings. The enrollment settings are used to set up automatic status changes based on the enrollment process, set requirements for enrollment, and also some automation based on payment processing. The steps required to complete the Enrollment Settings page are listed below.


1. Set File Type - after clicking on the Enrollments tab and clicking Settings on the navigation bar, select from the dropdown menu shown below the file type who's enrollment setting you wish to adjust. You may set up different enrollment settings for each file type you manage. Our example is the Student Loan File Type.




2. Status Change - Here you can set for automatic workflow status changes triggered by steps of the enrollment process. You will want to consider these options when creating a custom workflow.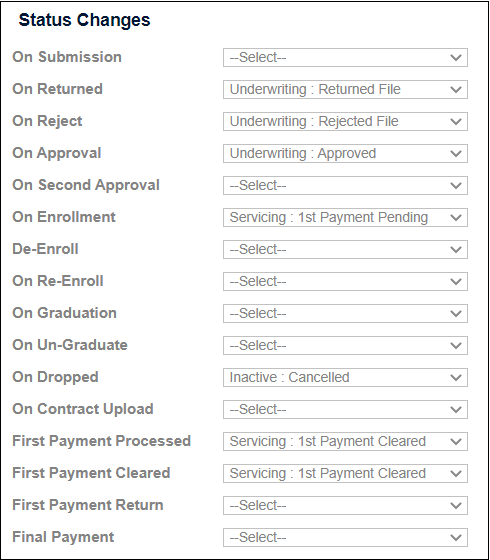 3. Workflow Settings - Defines requirements for submitting a contact for enrollment. Depending on your process and service, you will want to adjust these settings accordingly.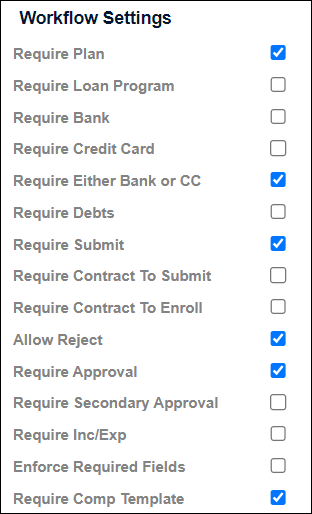 4. Company Assignment Setting - Will require companies to be assigned based on type before the assigned step in the enrollment process.




5. Role Assignment Settings - Will require the user to be assigned to a contact based on the user's role before the assigned step in the enrollment process.




6. Payment Settings - Sets automated actions based on the result of a transaction.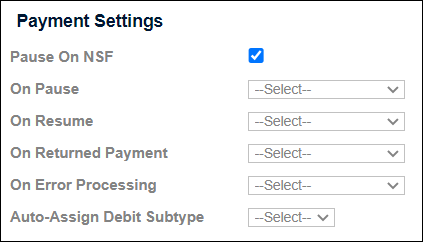 Pause On NSF - Automatically Pauses client in the case a transaction is returned.
On Pause - Sets automatic status change based on a contact being 'Paused'
On Resume - Sets automatic status change based on a contact being 'Resumed'

On Returned Payment - Sets automatic status change when the transaction is Returned.
On Error Processing - Sets automatic status change based on when an error is processed.
Auto-Assign Debit Subtype - Automatically assigns Subtype to Debit Transactions. 
7. Inter-Account Sharing - The inter-account sharing feature adds a dropdown for dynamically selecting which account the enrollment plan should load from. It includes a checkbox to enable inter-account plan sharing and an input box where account ID's can be entered.