| | | | |
| --- | --- | --- | --- |
| Doc. Number | Article Title | Effective Date | Version |
| FHC-XX | Campaigns Overview | October 25, 2023 | 0.4 |
This article was developed to describe how campaigns work within the Forth CRM. Campaigns allow your organization to create and track the source of contacts (leads) in the CRM.
NOTE
Campaigns should be used instead of custom fields to track lead sources.
This article includes the following topics:
Viewing current campaigns
From the Contacts tab, click Campaigns.




IMPORTANT
If the Campaigns page is missing from your Contacts tab view, please contact Support@setforth.com for assistance.

The Current Campaigns window opens on the right side of the page, displaying all campaigns regardless of whether they are active or inactive.
Editing or deleting existing campaigns
From the Contacts tab, click Campaigns.

Locate the campaign you want to edit and click the "pencil and paper" icon, located at the far right of the page (see image below).

Do one of the following:

Edit the appropriate fields > click Save Campaign; or
Click Delete Campaign.
Adding a campaign
From the Contacts tab, click Campaigns.
The Add / Edit Campaign window displays.

Complete the information for the fields as required.
To add an option to the Source menu, select --add new--.

A pop-up window appears. Enter a name for the campaign and click OK.

Click Save Campaign.
Making campaign selections in in-take forms
Campaigns created from the Campaigns page automatically become available to select from in the Campaign system field. The Campaign field can be added to your In-Take forms, allowing you to keep track of your lead sources.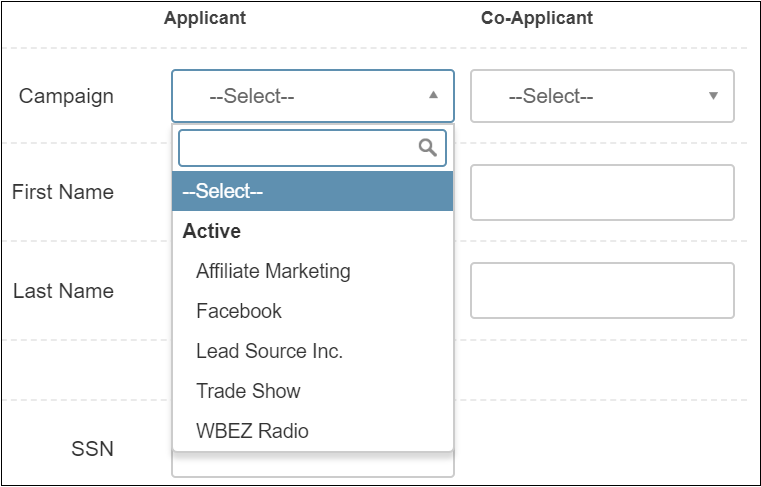 Article Version History: 
| | | |
| --- | --- | --- |
| Version | Effective Date | Description |
| Basic | 02/19/2019 | Initial Release |
| 0.1 | 09/16/2022 | Minor Updates |
| 0.2 | 03/23/2023 | Added header and version control footer; refreshed screenshots to reflect the current Forth user interface. |
| 0.3 | 05/12/2023 | Refreshed screenshots to improve legibility. |
| 0.4 | 10/25/2023 | Added the word Overview to the article title. |
|   |   |   |