| | | | |
| --- | --- | --- | --- |
| Doc. Number | Article Title | Effective Date | Version |
| FHC-XX | Direct Pay Set Up - Patenaude & Felix  | November 09, 2023 | 1.0 |

IMPORTANT NOTE: Please be aware there are two (2) payment processing offices located in California. See the details below to determine the right office to select during the settlement setup process.
This document discusses the process that applies ONLY to PATENAUDE & FELIX. For other creditors, Forth will release other documents over time outlining their specific procedures.
The following provides an overview of the settlement negotiating process and describes the current procedures required to convert settlement payments from an existing payment type to Direct Pay (Click here to learn more about Direct Pay)
 Overview:   
For normal ACH/Check-by-phone payment types, there are five (5) steps involved in the negotiating process. With Direct Pay, there is no longer a need to call creditors to set up scheduled payments.

🔺For all PATENAUDE & FELIX settlements, please inform your team not to call in payments as they can cause duplicate payments with this creditor.   
Scheduling Settlements:
For Direct Pay payments, the information filled out in the Creditor Payee Details section is significantly changed. Once you have selected the payment method under the payment terms as direct pay, the CREDITOR PAYEE DETAILS section (left-hand side of the screen) updates with Direct Pay Details.   NOTE:  🔺THERE ARE TWO DIFFERENT P&F offices that accept payments.  Please ALWAYS REFER TO THE SETTLEMENT LETTER to DETERMINE which account your consumer is signed up with to ensure proper payment routing and credit is applied. 
The accounts are distinguished in the dropdown list to minimize confusion.
Patenaude & Felix Canoga will be listed as P&F Canoga -20640
Patenaude & Felix San Diego will be listed as Patenaude & Felix -11891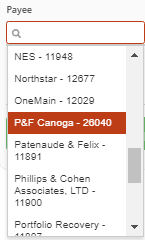 How can I tell the two offices apart?
P&F has recently contacted us that settlement letterheads may be generated with either the San Diego or Canoga offices.   PLEASE IGNORE THE ADDRESSES stated in the letterhead top section.
Instead, always refer to the account reference # to determine which account to select as a direct payee.   
Canoga:   2 hyphens in format like: XX-XXXXX-0 (Last hyphen always ends 0)
San Diego:  1  hyphen followed by 4-5 numbers.  No second hyphen
examples:
16-11910 - Set up as San Diego office and select Patenaude & Felix-11891
16-11910-0 - Set up as Canoga Office and select P&F-20640 - (note the -0 at end of file #)
Please copy the reference number exactly as listed on the settlement letter agreement to ensure the proper consumer's account is credited when paid. Please note the purple arrow that shows the specific info that should be copied over to the creditor reference field. Do not include the consumer's name in parenthesis, append the reference field with words like File # or Account#, etc., or shorten the reference number field. Failure to adhere to this process may delay or cause the payment file to fail and require manual intervention.  Payments could be lost and shown as UNPAID.   
Please, double-check check the entries are correct before saving the settlement.
Settlement Payment Decisions:
It's important to note that moving forward, PATENAUDE & FELIX settlements that are set up as Direct Pay will no longer be viewable on the Decisions Page.   
Why?   
Forth will send funds to creditors based upon the process date for PATENAUDE & FELIX settlements eliminating your daily task of approving each settlement payment. Furthermore, settlement payments will be paid only if the consumer has sufficient funds in their special purpose account. Any shortage in funds will result in the transaction remaining in Low Balance status until funds are available or advanced to the client.  
What about low-balance accounts?   How do I advance if the decisions page is gone?
To help you manage this, Forth has created reports that enable you to make advances to address these exceptions.
Forth Reports:
Uncollected Settlements - lists all uncollected/unpaid settlements in pending, shipped or low balance status. (

Click here to learn more

)


Low Balance Forecast Report - lists all potential low balance accounts up to 2 weeks out.  Features an advance button to facilitate on-the-fly account adjustments. (

Click here to learn more

)
At the beginning of each month, PATENAUDE & FELIX will be sending out its own Uncollected Debt Payments report to you. It will STILL be your responsibility to review these reports and manage these missing or late payments directly with PATENAUDE & FELIX.  
Questions:
Should you have any questions about this process or need further information, feel free to contact us at settlements@setforth.com.
Article Version History: 
| | | |
| --- | --- | --- |
| Version | Effective Date | Description |
| Basic | 04/24/2018 | Initial Release |
| 0.1 | 07/07/2021 | Minor Updates |
| 1.0 | 11/09/2023 | Added header and version control footer; Updated first screenshot; Changed company references to Forth; minor grammatical updates. |