Effective Date: 2/17/2022
Using the new Task Round Robin Assignment System
DebtPayPro (DPP), as your trusted SaaS Partner, always seeks new ways to make your work easier and more productive. One of our latest additions is the new Task Round Robin Assignment System.
Formerly, when you assigned a task to a particular team, any member of that team could receive the task, regardless of workload or availability. There was no order to the way assignments worked.
Now, using the Task Round Robin Assignment System, assignments rotate automatically throughout the membership of the assigned team, ensuring equal distribution of task assignments.
Using this feature is simple. First, you need to confirm the members of the team(s) that you will be assigning tasks. Start by going to the "Admin" tab, and then clicking "Teams" from the Navigation Bar. 

You can now edit one of the existing teams listed on the left side of the screen by clicking on that team's name, or you can create a new tasking team (see large red box below).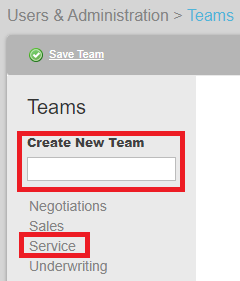 To review a team, click on that team's name (see small red box above). 
A new screen entitled, "Members of this Team" with multiple dropdown selections are now available to you. Team components may be specific team members, users assigned a particular role or roles, or even an entire company!
NOTE:  Selecting a company or role includes EVERY user assigned to that company or role.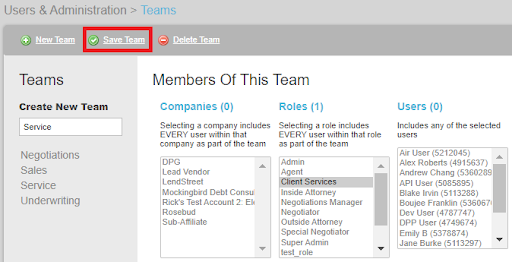 Once your team is set up, click, "Save Team" on the Navigation Bar to save your selection. Now go to the Calendar Tab and click on "Tasks" from the Navigation Bar.

Scroll down and click on "Edit Task Settings". 

After the screen refreshes, you will see a Round Robin section appear. The Teams shown on the previous page now appear. Be sure that the settings shown match your intended team selections, and click "Save Settings."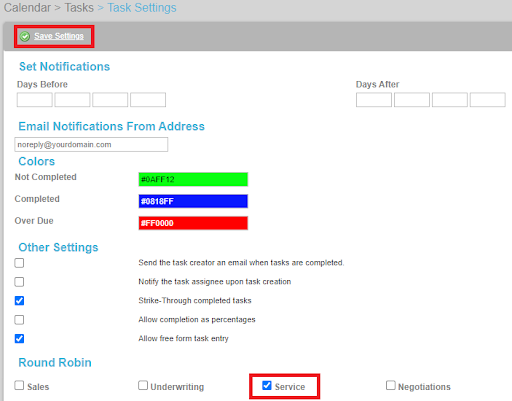 You can manually assign Tasks, by now clicking "Tasks" from the navigation bar. An "Incomplete Tasks" table now appears along with several options on the left side of the screen.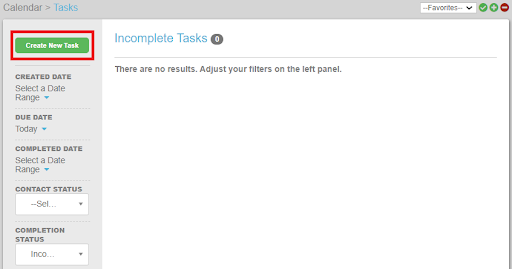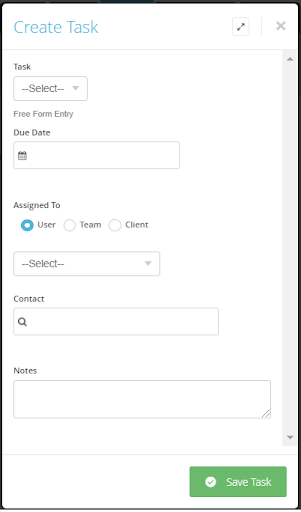 Click the "Create New Task" button (see above) and select a task from the dropdown menu that appears next. Choose a Due Date for this task by clicking inside the "Due Date" text field. This will launch a calendar for which you can assign your proposed task's due date.
Proceed to the "Assigned To" field, and select Team (for this example), by clicking the "Team" button and selecting the specific team you wish from the dropdown menu. This assures the system automatically routes this task to a member of the correct team.
Next, select a task contact by typing that contact's name in the "Contact" text field.
Once your selections are complete, click the "Save Task" button. Once clicked, the button should read "Saving."
Once this task creation is complete, you automatically return to the "Incomplete Tasks" table.
From here, you may search for tasks using the many filters available. You can search by due date, person/role/company assigned, contact name, etc.
To see the Task Round Robin Assignment feature in action, please watch this training video by clicking on the image below.