| | | | |
| --- | --- | --- | --- |
| Doc. Number | Article Title | Effective Date | Version |
| FHC-XX | Documentation Packages | March 10, 2023 | 1.1 |
This article describes the functionality built into "Document Packages" to improve document building and management within the CRM. It is broken up into the following sections:
Overview
Document Packages allow you to leverage the capabilities of both our document builders (HTML + PDF) while allowing you to combine them, saving you time and money. Document Packaging is built on top of the existing document template feature, keeping the core template functions of the platform unchanged. In addition, Document Packages are fully integrated into our Clixsign e-signature platform and will seamlessly mesh into your existing e-signature processes.
Document Packages make it easier to build and maintain a "folder" of documents that you can send to the end consumer and share with your users. Through an intuitive, new drag-and-drop UI, you no longer have to struggle with including one document inside another or have to rebuild PDFs as HTML documents. A brand new document rendering engine brings advanced capabilities that separate and handles each document individually, allowing you to mix all types of documents while preserving the unique layout, branding, and other visual characteristics of each.
This new feature is available by logging in to the Forth CRM and clicking on the Docs tab. At the top of the first screen, you will see two new options available to you, "Templates" and "Packages." If you click on the "New Template" dropdown menu, you will have the option to create a new HTML Template or a new PDF template.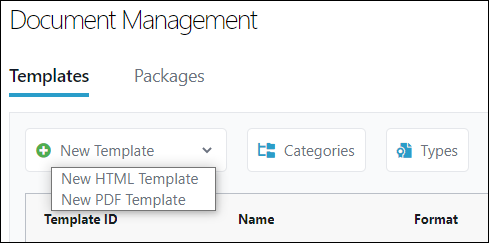 What are Templates?
A Template is a document you create, commonly used in your business, that requires automatic feeding of information from your CRM. You produce a new HTML-based template or PDF by choosing from the "New Template" drop-down menu.
New features also include improved user experience with tables, allowing the user to add or remove columns from their view, and allowing real-time searching, sorting, and filtering.
In the past, when generating a Clixsign request that required more than one template, a user would need to combine documents within a single template via tags, creating a "template within a template". This caused issues with formatting, styling, and layout, resulting in a final product that could use improvement. Users were also unable to combine an HTML template and a PDF template in the same request. We created "Document Packages" to solve these and many other problems.
What are Packages?
A Package is a collection of one or more document templates and is used in the same way as existing document templates are in an agent's workflow. A user can pick a package to generate a Clixsign request as they would a standard document template. However, the system handles Packages differently and will render each template of the package separately before combining them for the Clixsign Request. No more "Template within a Template"' and no more struggle deciding between using an HTML or PDF template, or having to rebuild document templates from one format into the other. A Package can include templates of either type.
Creating a Document Package
Creating a Package is as easy as pressing the "New Package" button shown here: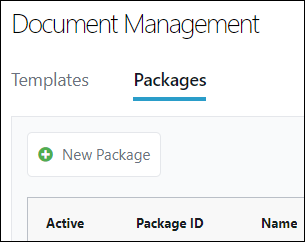 Next, enter a package title and package description, and to select your preferred document templates, click the "Add a Template" button located at the bottom of the page.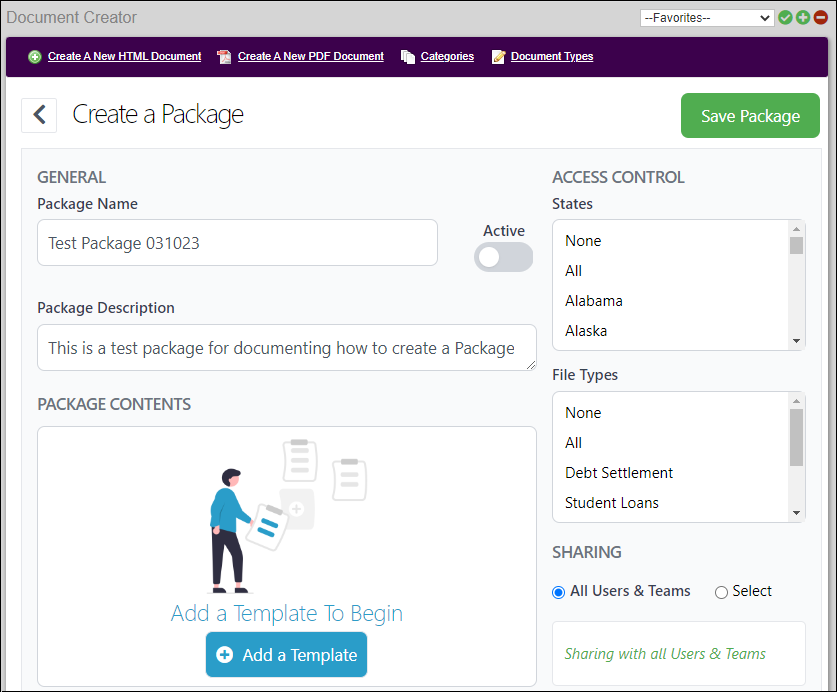 To add a template, click on the checkbox listed next to the templates you wish to "package", and click the "Add Templates" button.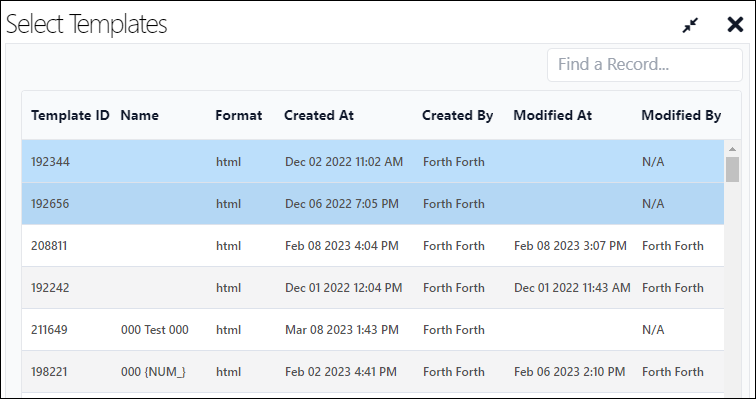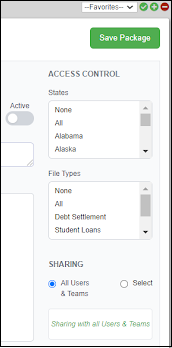 The sidebar on this page also contains the standard access and sharing controls that you use in document templates (See the image above). You can make templates available to all or specific file types, states, or users. Once you have confirmed all settings on this page, click the "Save Package" button at the top right of the page (see above).
Once you have saved the document package, return to the Contacts tab, and select the client to whom you are sending the document package request. You may select a recently viewed client from the area highlighted below in red.

Once you select that client, go to the Docs nested tab, and on the right side of the screen, click the "Generate Documents" button.

On the left side of the screen, you now have the option of selecting either Package or Template.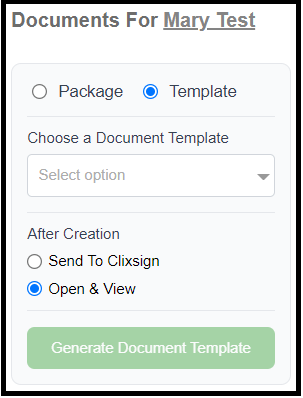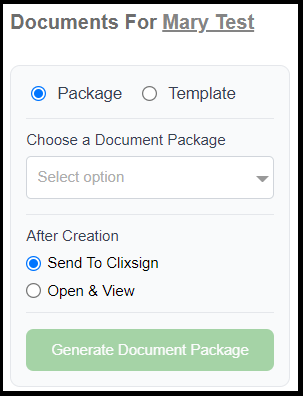 After selecting the "Package" radio button (see above right), choose your package using the dropdown menu. Also, note that the "After Creation" options change.
Go to the radio buttons at the bottom of the section and select Send To Clixsign. Please note that the green button at the bottom of the page now becomes active. Click the "Generate Document Package" button, and you will be taken to the "Send for Signature" stage.
Article Version History:
| | | |
| --- | --- | --- |
| Version | Effective Date | Description |
| Basic | 01/20/2022 | Initial Release |
| 0.1 | 04/19/2022 | Minor Edits and screenshot updates |
| 1.0 | 02/17/2023 | Added header and version control footer; Refreshed screenshots to reflect the Forth updated user interface. |
| 1.1 | 03/10/2023 | Updated several screenshots to reflect updates to the Document Package splitting feature |