| | | | |
| --- | --- | --- | --- |
| Doc. Number | Article Title | Effective Date | Version |
| FHC-XX | Status Report | June 16, 2023 | 0.2 |
Effective Date: 8/9/2022
This article was developed to describe the Status Report feature within the CRM. The Status Report allows management to track the Stage and Status of contacts in the system. This article is organized into the following sections:
Accessing the Status Report
To access this report, log in to the CRM, click the Reports tab, scroll down and select "Status" as shown below. (NOTE: The various report options shown below may differ from what is available to you. Contact your Account Manager for further information).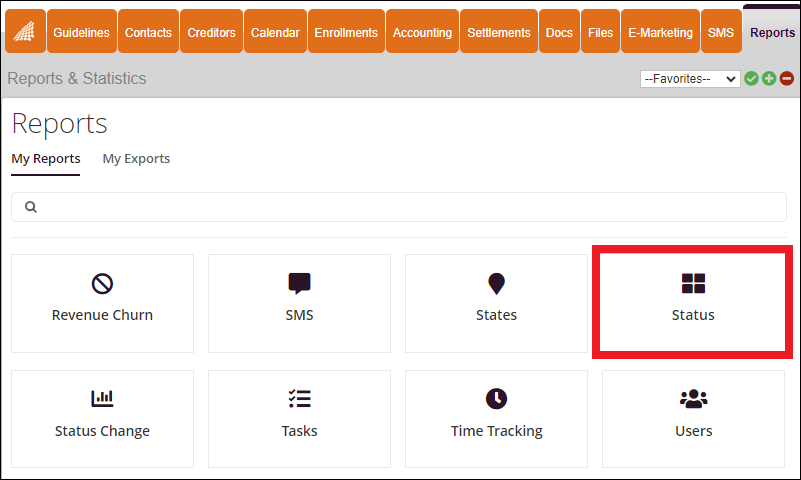 Using the Status Report
A Status Report page now appears, similar to the example shown below. The report lists the number of contacts in each Stage in parenthesis under the Stage on the left side of the page.
The number of contacts in each Status is listed in a circle to the right of the Status. The horizontal bar to the right of each Status represents the percentage of contacts from that Stage, who are assigned that Status.
The report can be filtered by File Type, Company, and User (see image below). After configuring the filters, click the Filter button.

Article Version History:
| | | |
| --- | --- | --- |
| Version | Effective Date | Description |
| Basic | 12/19/2018 | Initial Release |
| 0.1 | 08/09/2022 | Formatting Updates - no subject matter changes |
| 0.2 | 06/16/2023 | Refreshed screenshots to reflect the current user interface; Added header and version control footer |
| | | |