| | | | |
| --- | --- | --- | --- |
| Doc. Number | Article Title | Effective Date | Version |
| FHC-XX | Funnel Report | February 27, 2023 | Basic |
This article was developed to describe the functionality of the "Funnel" report within the Forth CRM.
Funnel Reports are used to track lead conversion rates of contacts as they move through your CRM Workflow Statuses. To access these reports, log in to the CRM and click on the Reports tab. On the Reports page that opens, select "Funnel" as shown in the example below.
Creating A New Funnel Report
1. Toggle the sidebar to open the Funnel Settings.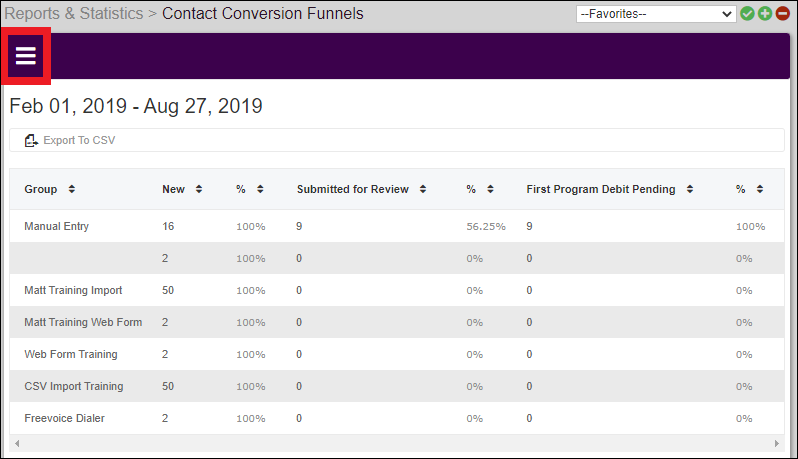 2. Select the Funnel Path via the "Funnel Path" dropdown menu. In the example shown below, we selected New Lead --> Submitted for Review --> First Program Debit Pending. This means we will see how many leads make it from "New Lead" to "First Program Debit Pending" through that path.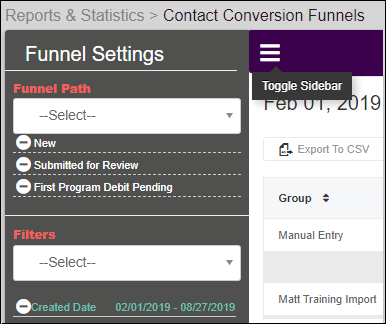 3. Select Filters (optional).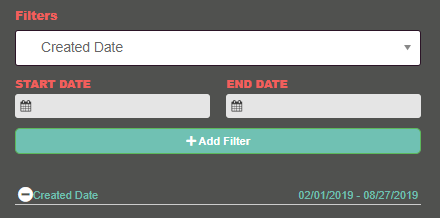 Created Date: Select a date range to filter by the date that the contacts were created.
Status Date: Select a date range to filter by the date that the contacts were in a particular status.
Data Source: Select the Data Source that the contacts were created from.
Campaign: Select a Campaign associated with the contacts.
4. Select how the data will be Grouped. Grouping allows you to alter how the report is displayed, based on the selected fields. I am grouping by "User" so that I can see how many leads traveled through the path I am reporting on for each user.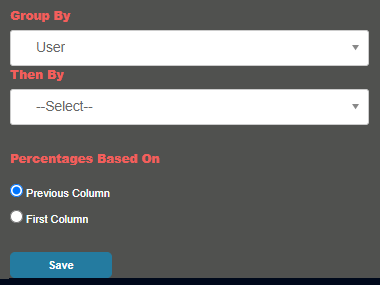 **For best results, Group by "User" first.

5. Conversion % can be calculated by the ratio of contacts that came from the Status in the previous column or based on the Status in the first column. (See the image above to make your selection).
6. Save the Report by clicking the "Save" button located at the bottom left of the page.
Analyzing the Funnel Report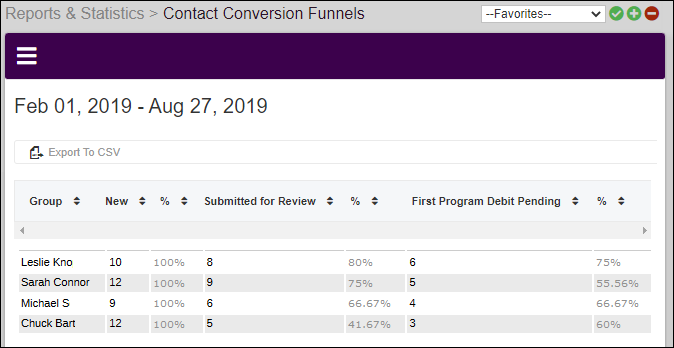 From the example Funnel Report displayed above, we can deduce the following...
Leslie Kno has the second-highest conversion rate of files submitted for review
Sarah Connor has the lowest conversion rate of files with the status of first program debit pending.
Notes:
Click on column headers to sort by that column
Funnel Reports can be exported for external use or record-keeping purposes. Click

Export To CSV

located just under the date range on the report.
Article Version History:
| | | |
| --- | --- | --- |
| Version | Effective Date | Description |
| Basic | 03/09/2017 | Initial Release |
| 0.1 | 04/28/2021 | Minor Updates |
| 0.2 | 02/27/2023 | Added header and version control footer; refreshed all screenshots to reflect current user interfaces. |