| | | | |
| --- | --- | --- | --- |
| Doc. Number | Article Title | Effective Date | Version |
| FHC-XX | Converting Settlements to Direct Pay | November 10, 2023 | 1.1 |
This article addresses existing settlements that need to be converted to Direct Pay. This includes recently created new settlements set up as a different payment method or settlement payments that are appended to an existing settlement program. In either case, the process of converting a settlement payment is the same.
Navigating to the Adjust Payments Page
1. From the Client Dashboard click Enrollment.

Also, you can locate the contact in the Enrollments tab, and click the green arrow.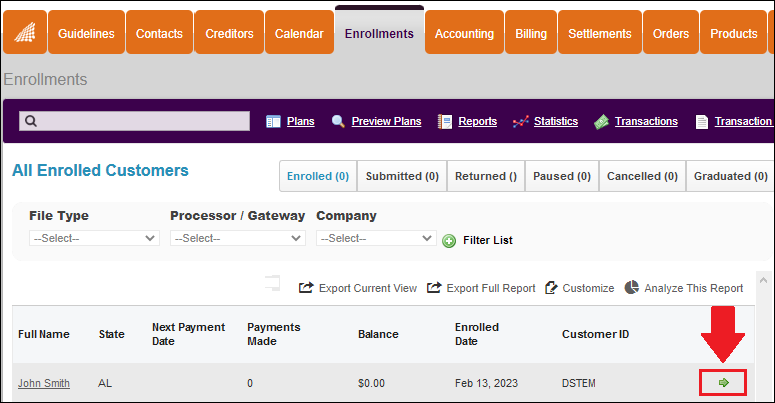 2. Click Adjust Payments.

Adjusting Settlements
Navigate to the tab titled, "Settlement Payments" (third tab shown on the page).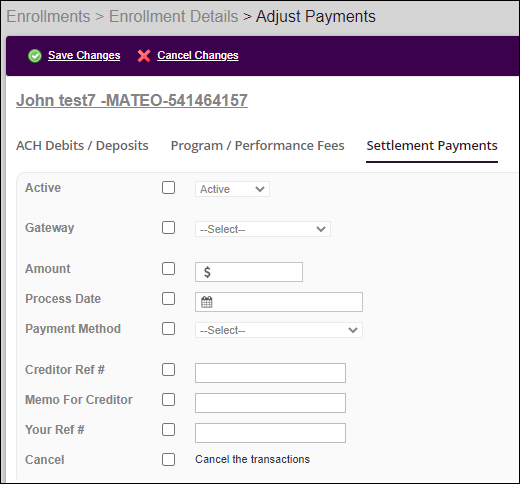 Click the box after PAYMENT METHOD and then select Direct Pay from the dropdown list.
Next, select the direct payee you wish to pay.
Click the checkbox next to "Creditor Ref #" and provide that number in the Creditor Ref # field.
When done, click the "Save Changes" button at the top of the page to save your changes.
To view a video of this process, click here: https://drive.google.com/file/d/18AhN1q5K5Byj2THJdwIf8BaTNZHglzyB/view
The portion for adjusting settlements for direct pay starts around the two-minute mark. Contact us at support@setforth.com if you have any questions about this process.
Article Version History: 
| | | |
| --- | --- | --- |
| Version | Effective Date | Description |
| Basic | 07/22/2019 | Initial Release |
| 0.1 | 07/21/2022 | Minor Updates |
| 1.0 | 03/09/2023 | Added header and version control footer; refreshed screenshots to improve legibility and reflect current user interface. |
| 1.1 | 11/10/2023 | Condensed article title |
|   |   |   |