| | | | |
| --- | --- | --- | --- |
| Doc. Number | Article Title | Effective Date | Version |
| FHC-XX | DRSP Payee Management | March 24, 2023 | 0.3 |
This article describes a new feature that will allow a user to enable, disable and delete payee accounts. Previously, payee accounts created were permanent regardless if the payee account was "inactive" or was set up as a test payee account. As a result, the inactive/test payee account remained as an option for your team to select from the payee dropdown list when setting up fee transactions. Moving forward, users will be able to manage payee accounts more effectively.
What has changed?
Users now have the ability to enable, disable or delete "inactive" payee accounts.
To prevent accidental disabling or deletion of payee accounts, the Disable and Delete buttons appear only if certain conditions described below are met.
What is the difference between disabling and deleting a payee?
Disable allows you to prevent users from scheduling new transactions. You can disable a payee regardless if there are pending or cleared transactions. It does not prevent previously existing transactions from processing.
Deleting a payee removes the payee permanently and has conditional requirements of zero transactions scheduled or cleared.
Both functions remove the ability for users to schedule future transactions by removing the payee from the dropdown menu.
How do I disable a payee?
Begin by logging in to the Forth CRM, and clicking the Admin tag. Next, select "Companies" from the Navigation Bar, and select the company using the small green arrow found to the right of the company's row.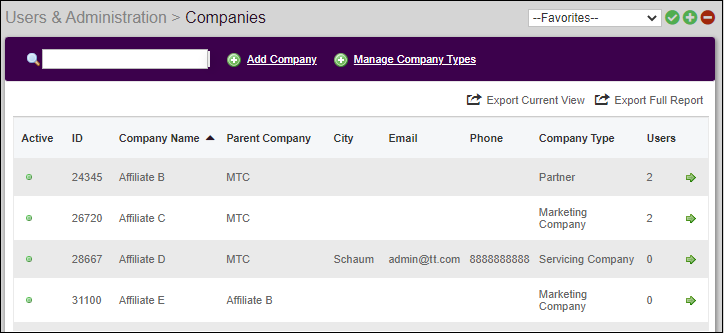 Select "Payees" from the Navigation Bar. A page like the one below should then appear.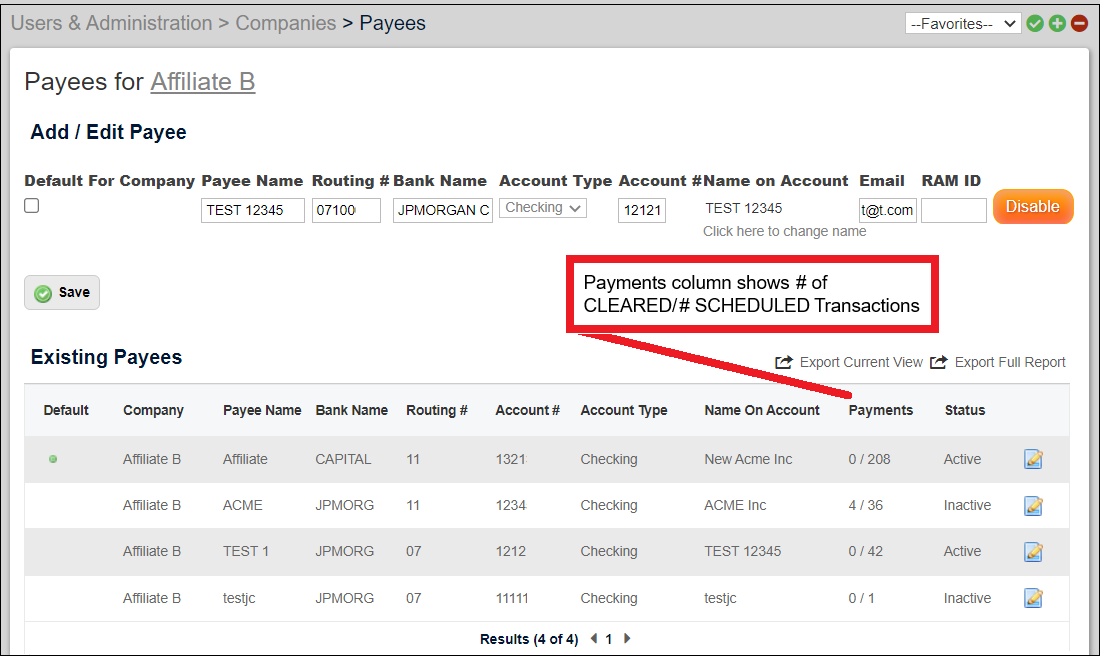 Under the payments column, the # of transactions outstanding are expressed as CLEARED/ SCHEDULED. If the first # is ZERO*, then a "Disable" button appears meaning the system has no records of any cleared transactions.
Press it and a window pop-up will ask you to confirm the action. If you hit ok, the status will change to Inactive and a new button ENABLE button will appear to allow you to re-enable the payee account.
*Note: What happens if you want to disable a payee, but the # is NOT ZERO?
If the payee has future transactions scheduled and they are not reassigned to a new payee and/or canceled, the transactions will process on the date they are scheduled and clear into the payee and pay out to the business account on file. If you do not want this to happen you need to reassign those transactions and/or request a withdrawal freeze on the account.
How do I delete a payee?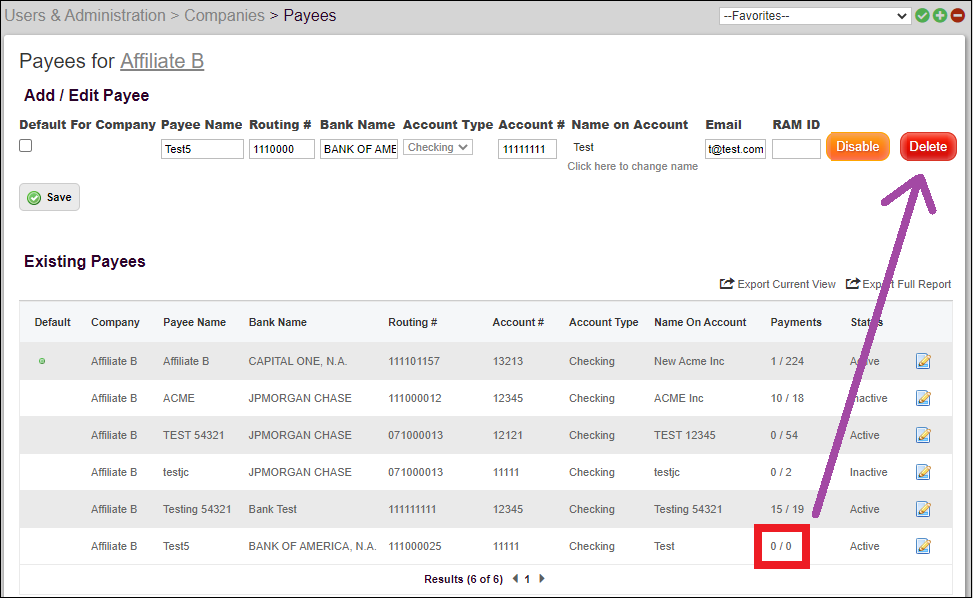 To delete a payee, the following conditions must be met: There must be zero transactions in the payments column. Both values must be zero. If both conditions are met, a "Delete" button will display. Once pressed, the pop-up window will ask you to confirm. After it is deleted, the payee will no longer be displayed on the existing payee list.
If you run into any issues or have any questions about this feature, contact us at support@setforth.com
Article Version History:
| | | |
| --- | --- | --- |
| Version | Effective Date | Description |
| Basic | 08/13/2020 | Initial Release |
| 0.1 | 9/20/2022 | Minor Updates |
| 0.2 | 03/14/2023 | Added header and version control footer; |
| 0.3 | 03/24/2023 | Refreshed all screenshots to reflect the current user interface and improve legibility. |