| | | | |
| --- | --- | --- | --- |
| Doc. Number | Article Title | Effective Date | Version |
| FHC-XX | Dashboard Tab | September 29, 2023 | 0.2 |
This article was developed to describe the Dashboard tab within the CRM. It is organized into the following sections:
Overview
The Dashboard tab in your user account provides your basic call log, contact stats, and notes. It can be used as a launching point for users when deciding which contact files to follow up on next. To access this tab, log in to the Forth CRM, and then click the upper left-most tab to the left of the Guidelines tab (i.e., the Dashboard tab).

NOTE
Call logs are added by clicking the Log A Call button on the Calls tab of the Client Dashboard.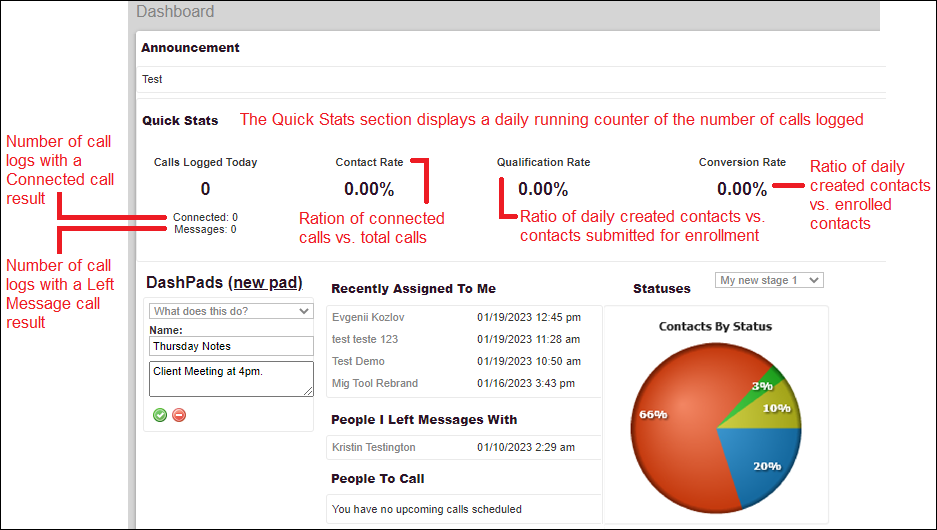 DashPads
DashPads are notes that appear on your Dashboard tab.
To add, select or delete a note, do one of the following (see the image above):

Click (new pad) to create a new note; or
Select an existing note from the Select menu.

See below for details on adding, editing, or deleting a DashPad.

Do one of the following:

Click  to save the new or edited note; or
Click  to delete it.

NOTE
Pads are then stored and can be referenced later by choosing them from the selection menu.
Viewing a specific status
The Statuses section of the Dashboard page includes a pie chart that displays the contacts that have either been assigned to you or created by you. The chart identifies the percentage of contacts in each status.
NOTE
Statuses vary based on your company's workflow settings.
Select an option from the Statuses menu.
Hover the mouse over each section of the pie chart to display the following additional details:

Name of the Status
Total number of contacts in that Status
Percent of contacts in that Status
Article Version History: 
| | | |
| --- | --- | --- |
| Version | Effective Date | Description |
| Basic | 03/31/2021 | Initial Release |
| 0.1 | 01/19/2023 | Added header and version control footer; Refreshed screenshots to reflect updated user interface. No subject matter updates. |
| 0.2 | 09/29/2023 | Fixed broken screenshot. |
|   |   |   |