| | | | |
| --- | --- | --- | --- |
| Doc. Number | Article Title | Effective Date | Version |
| FHC-XX | SMS Nested Tab | March 20, 2023 | 0.2 |
This article was developed to describe how to utilize the SMS Nested Tab found in the Client Dashboard This article includes the following topics:
SMS tab overview
The SMS nested tab in the Client Dashboard allows you to have full SMS (text) conversations with a contact through the Forth CRM software while viewing and storing the messages in the SMS tab.


NOTE
The SMS module is optional. If you have it, the tab will be available to you. It is an integration that works with Twilio.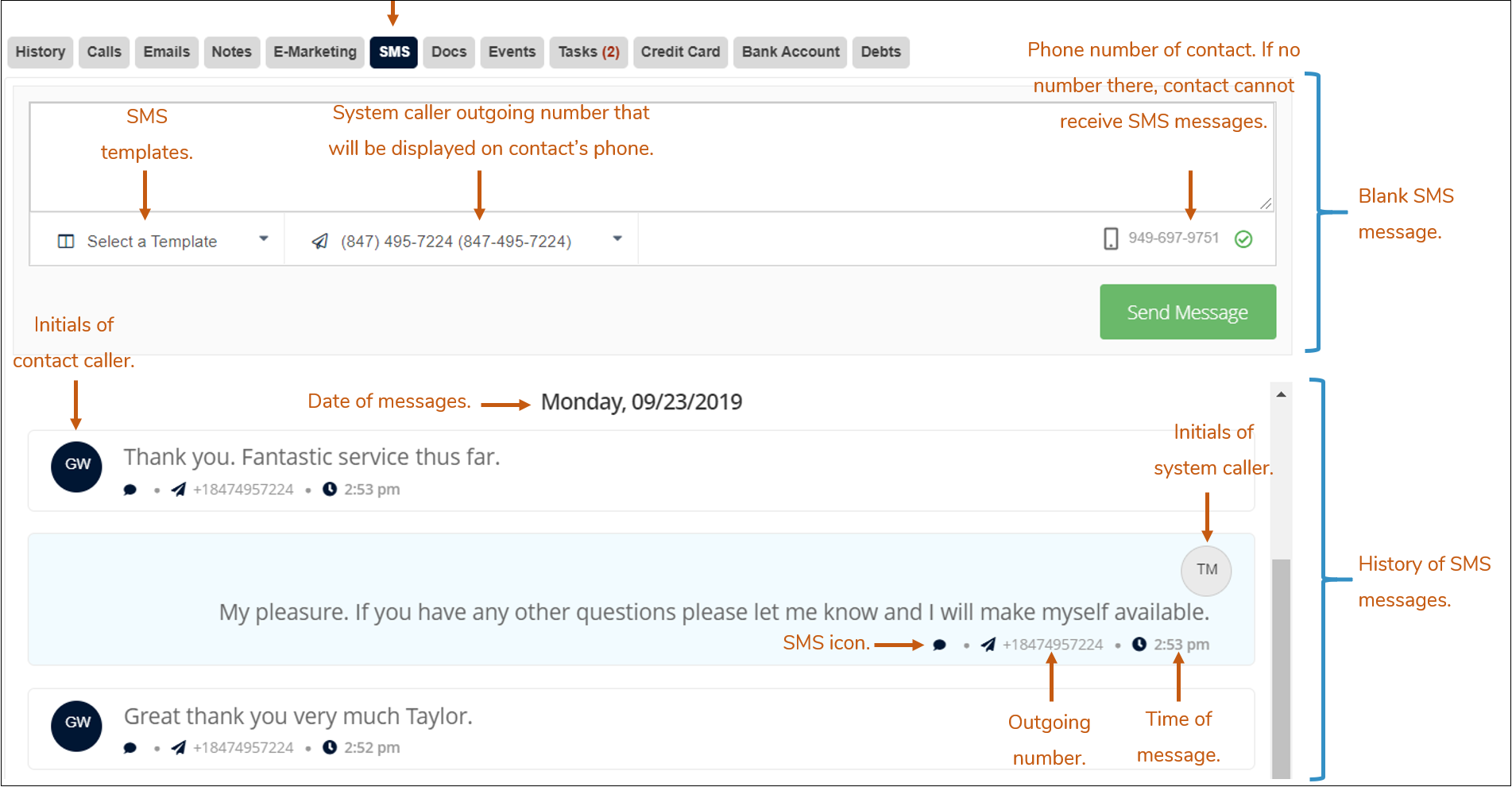 Sending an SMS message
IMPORTANT
If there isn't a phone number or a  in the bottom right of the message box, the number on file is unable to receive SMS messages.
From within the Client Dashboard, click the SMS tab.
Do one of the following in the message field:
Begin typing a custom message to the client; or
Select an option from the

Select a Template

menu if you have a preset message you want to use.


In the

Select a Phone Number

dropdown

menu, select the phone number you want the message to be sent from and replied to.
Click the

Send Message button.



NOTE
When the contact responds, an in system pop-up notification displays.
Article Version History:
| | | |
| --- | --- | --- |
| Version | Effective Date | Description |
| Basic | 03/31/2021 | Initial Release |
| 0.1 | 02/04/2022 | Minor Grammatical Updates |
| 0.2 | 03/20/2023 | Added header and version control footer; Refreshed one screenshot to remove DPP reference. |