| | | | |
| --- | --- | --- | --- |
| Doc. Number | Article Title | Effective Date | Version |
| FHC-XX | Docs Nested Tab | September 28, 2023 | 0.4 |
This article was developed to describe the Docs nested tab, found within the Client Dashboard within the Forth CRM.
IMPORTANT
Before you enroll a client, the Gateway Authorization Agreement must be uploaded. It will be visible in the Uploaded Files tab.
This article includes the following topics:
Overview
The Docs nested tab in the Client Dashboard allows you to create and upload PDFs, including those for e-signature in multiple formats such as zip files.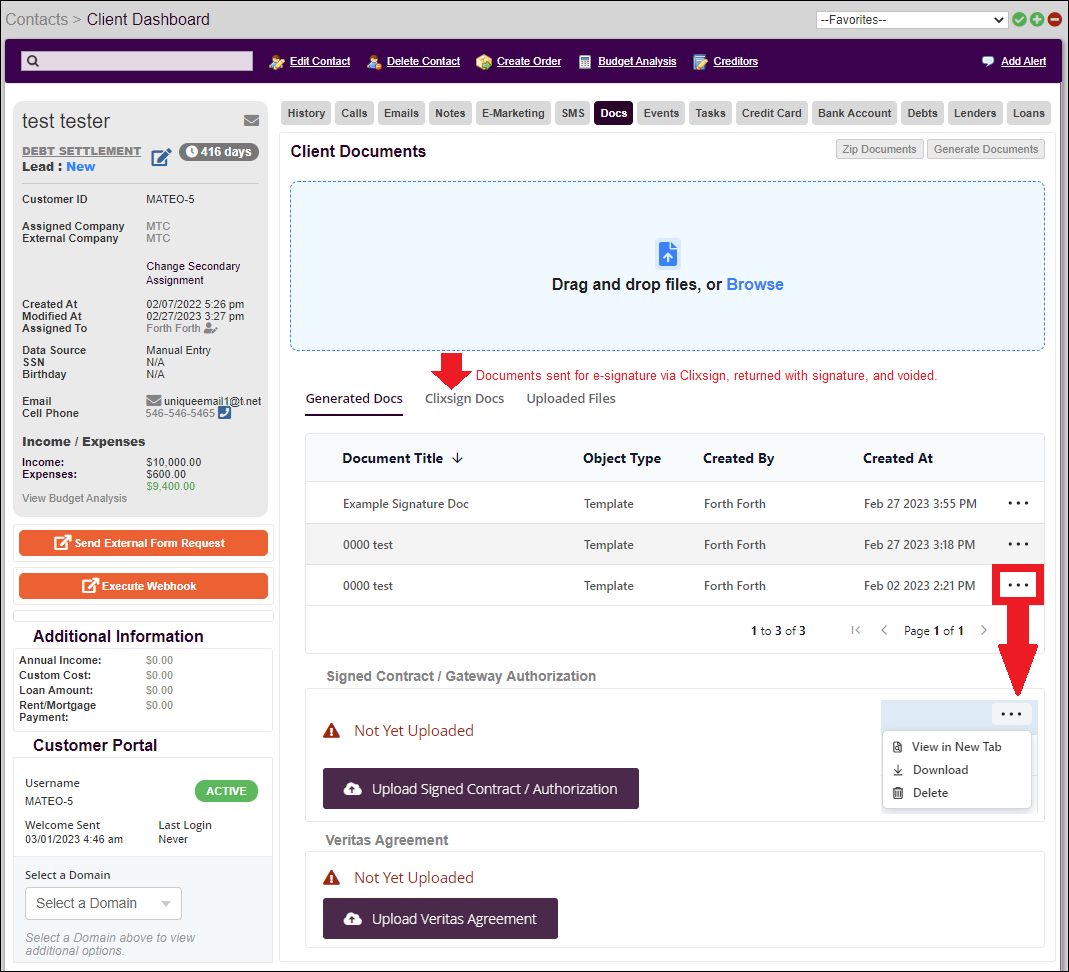 Uploading files
From the Client Dashboard, click the Docs tab.
Do one of the following:


Click Browse to access the documents on your hard drive > select the file > click Open; or
Drag and drop the file into the system.

The Upload File window opens.

If desired, go to the:

Document Category dropdown menu to select a category to organize, filter, and search for this document.
Description field to add any additional information you may feel is useful to anyone who may review the document.
NOTE: The name of the document auto-populates in the Name field at the top left of the dialog box.

Click Upload.
The document is now located in the Uploaded Files tab in the Client Documents section of the Docs nested tab.
Searching uploaded documents
From the Client Dashboard, click the Docs tab.
Click the Uploaded Files tab.
To narrow your search, you can:

click on any of the column headers to sort by: Date Created, File Name, Description, Doc Type, Created By, or by Debt/Creditor; OR
you can click on the three lines that appear next to each column header, which opens a search/filter field for you to use (See the example shown below).


Downloading files
From the Client Dashboard, click the Docs tab.
Click Uploaded Files.
Click the ellipses to the right of the document you want to download. From the dropdown menu that appears, select "Download".
The document should appear at the bottom of your screen. Click it to preview it.


Generate and send a PDF for E-signature
From the Client Dashboard, click the Docs nested tab.
Click Generate Documents.

The Generate Document page opens.
Select a document from the Choose Template menu, found on the left-hand side of the page (see the image below).

Select any of the following options:


Send To ClixSign if the document was created with the PDF Builder > click Generate PDF > and go to the ClixSign section to continue.
Open & View: to view a finished version of the document after it has been generated.

Click Generate Document Template.
ClixSign Steps
From the ClixSign page, set the "Send Email" toggle or the "Set SMS" toggle for the appropriate option to ON.
Select an option from the E-Marketing Template dropdown menu for emails or from the Select Template dropdown menu for an SMS message.
Select the Enforce Signing Order checkbox if you have multiple signers and you want them to make sure the document is signed in a particular order.
If you have multiple signers that are receiving the document, you can use the toggle button to specify whose signature is required and whose isn't.
Click the Send For Signature button found at the top right of the page when finished.

 

View, Download or Void Clixsign documents

From the Client Dashboard > click the Docs tab and then click the Clixsign Docs tab.

Click the ellipses (three dots) to the right of the document you want to void or resend and select "View Details".

The document window opens. If the document status is listed as "Complete", the only actions you can take are viewing the document itself or downloading it (See the "Document Actions" section in the image below).


If desired, click Void Document > click OK to confirm the action.
Click OK to confirm the action.         

 

 

Article Version History: 

| | | |
| --- | --- | --- |
| Version | Effective Date | Description |
| Basic | 03/31/2021 | Initial Release |
| 0.1 | 08/17/2022 | Minor Updates |
| 0.2 | 03/30/2023 | Added header and version control footer; refreshed several screenshots to better reflect the current user interface. |
| 0.3 | 04/06/2023 | Refreshed screenshots and language where appropriate to reflect the Clixsign-specific electronic signature system and the current user interface, including improved search features for uploaded documents. |
| 0.4 | 09/28/2023 | Removed a broken link in the first screenshot. |
|   |   |   |