| | | | |
| --- | --- | --- | --- |
| Doc. Number | Article Title | Effective Date | Version |
| FHC-XX | QuickBooks | October 12, 2023 | 0.4 |

This article was developed to describe the integration for QuickBooks and how to turn it on for your use. QuickBooks is an accounting software package developed and marketed by Intuit.
Note: This integration is only functional with QuickBook's online version.
Integration Details
QuickBooks is connected directly from within the Forth CRM interface. There are no credentials required like in other third-party integrations. Instead, via the popup window which becomes available after the add-on has been enabled, Users can authorize QuickBooks to connect. This connection remains active until disconnected by the User.
To turn on this connection, click on the green "qb" button located at the top right of the page (as shown below) 

The following dialog box will open, asking you to authorize the Forth CRM access to QuickBooks. Click on the "Connect to QuickBooks" button to continue.

You will then be taken to QuickBook's online login page (see the current version below). Complete the login information requested and click the "Sign In" button, and you will then be able to access QuickBooks.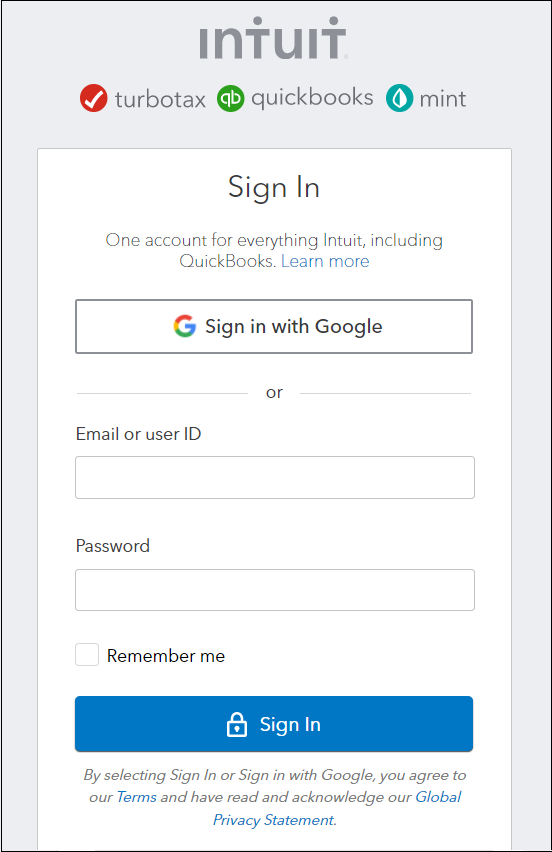 Integrating QuickBooks with Forth CRM

To integrate QuickBooks with the CRM, please send an email request to Sales@setforth.com.
Article Version History: 
| | | |
| --- | --- | --- |
| Version | Effective Date | Description |
| Basic | 01/08/2018 | Initial Release |
| 0.1 | 08/15/2022 | Subject Matter Review - no changes made |
| 0.2 | 01/03/2023 | Added header and Version Control footer; Edited or replaced screenshots to reflect current UI and improve legibility. |
| 0.3 | 01/20/2023 | Replaced company references with Forth for rebranding. |
| 0.4 | 10/12/2023 | Minor formatting updates; no subject matter review. |
|   |   |   |