| | | | |
| --- | --- | --- | --- |
| Doc. Number | Article Title | Effective Date | Version |
| FHC-XX | Settlement Status Workflows | March 13, 2023 | 1.0 |
This article was developed to describe how to configure Settlement Status Workflows in the CRM.
Status Workflow
There are two types of workflows that can be used during the settlement process:
Un-Restricted – which allows offers to move to and from any status; or
Restricted – which follows the process and rules set by your company to get to the "Accepted" status.

NOTE: We recommend using a Restricted workflow to create an approval process to regulate what status an offer can be moved to from its current status.
Once an offer is set to the "Accepted" status, the system will automatically transition the offer to "Completed" creating the corresponding transactions from the offer (SIPs and EPFs) on the payment schedule. This will be the final step in your offer workflow.
To configure a restricted workflow:
Login to the CRM and click the Settlements tab.
Click "Settings" from the Navigation Bar (see the red highlighted area in the image below).
From the left panel, select Status Workflow.
Select Restricted as the type of workflow. This allows you to select which status moves to which status.
From the Default Offer Status menu, select the status in which you want the workflow to begin.
Click the green Save Settings button.
Take note of the following before you create your workflow:
Each "From" Status" option should have at least one "To Status" option.
At least one "To Status" option, must contain an "Accepted" status.


To create a status workflow (whether restricted or unrestricted):
Scroll to the section below:

Click Select Some Options next to the status you are currently working on. You'll notice the following options:

In-Review
Declined
Completed
Creditor Reviewing Offer
Creditor Declined Offer
Creditor Accepted Offer
New Offer
SPIF Needed
submitted to compliance

Any additional options are pulled from the Offer Statuses you created. You can select as many statuses as you need.

NOTE: It is recommended that you leave the "Voided" status blank. Once an offer has been voided, create a new offer.



Select the user role(s) who will have the permissions to transition the offer to that status. Example: Accepted -This means only the Admin can move the status to Accepted.


Click Save Settings.
SAMPLE
To make a workflow function like this:

The completed workflow in the Status Workflow settings would look like this: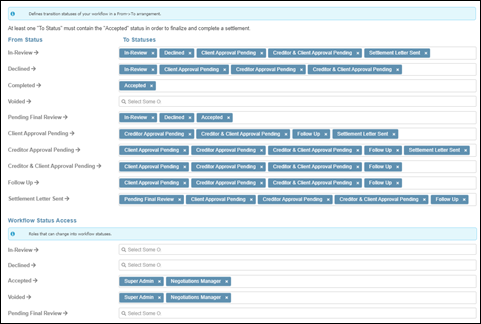 Article Version History:
| | | |
| --- | --- | --- |
| Version | Effective Date | Description |
| Basic | 06/04/2020 | Initial Release |
| 0.1 | 08/12/2022 | Minor Updates |
| 1.0 | 03/13/2023 | Added header and version control footer; Refreshed screenshots to improve legibility and reflect current user interface. |