| | | | |
| --- | --- | --- | --- |
| Doc. Number | Article Title | Effective Date | Version |
| FHC-XX | Advancing Funds: Account to Client Transfer | February 10, 2023 | 1.0 |
This article was developed to provide the steps needed to advance funds manually. The primary use of this feature is for Users who want to manually advance funds from their reserve account to a particular client's account. Typically this feature is used to advance funds for a low balance settlement for a shipped check. The system will not send the check until it is funded (pending status).
For settlements that are presented to Forth Pay for payment (ACH and check by phone electronic images), you can advance "on the fly" by using the decisions page to advance on any low-balance settlements. For more information, please refer to the help article: Settlement Decisions: Advance Funds.
Navigate to the Accounting Tab and select Fee Accounts from the Navigation Bar (shown below).

On the "Fee Accounts" page that appears, click Account-to-Client Transfer from the Navigation Bar (as shown below).

On the "Account-Client-Transfer" dialog box that opens, complete all the fields shown and when finished, click the "Save" button at the bottom of that dialog box.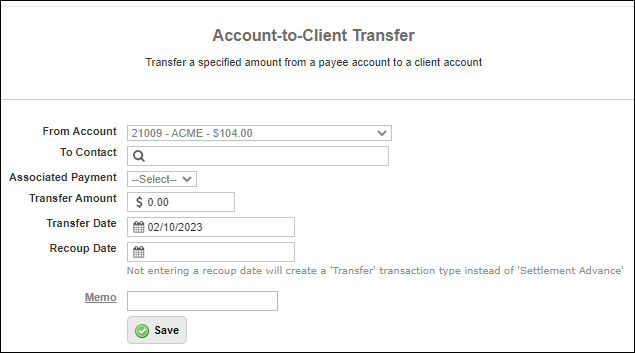 The fields to complete are listed below:
From Account: Select the appropriate VBA reserve account (payees).
To Contact: Type in the client name or the client ID you wish to advance funds.
Associated Payment:
Transfer Amount: Amount of funds to be transferred.
Transfer Date: Must be current date or date in the future; can NOT be back-dated.
Recoup Date: Select the date you wish to recoup funds from the client account.
Memo: Input notes relevant to this activity i.e. "Advance for settlement". By clicking on the "Memo" header, a dropdown menu of previous memo notes will appear for your use.
NOTE: Not entering a recoup date will create a "Transfer" transaction type instead of "Settlement Advance"
Save your selections. The amount saved will be instantly applied to the account.
Article Version History:
| | | |
| --- | --- | --- |
| Version | Date | Description |
| Basic | 10/13/2017 | Initial Release with updated screenshots and steps clarified |
| 0.1 | 01/26/2020 | Minor changes |
| 1.0 | 02/10/2023 | Added header and version control footer; Updated screenshots and added language to reflect Forth User Interface updates. |