| | | | |
| --- | --- | --- | --- |
| Doc. Number | Article Title | Effective Date | Version |
| FHC-XX | Authorization for ACH Client Debt Transactions | May 10, 2023 | 0.2 |
This article describes the addition of a payment dropdown for authorization for automated clearing house (ACH) debit. The article is divided into the following sections:
Background
An ACH is a computer-based electronic network for processing transactions, usually domestic low-value payments, between participating financial institutions. It may support both credit transfers and direct debits. The ACH network supports dozens of payment scenarios. These categories appear as a unique 3-character Standard Entry Class (SEC) code with every entry. The SEC code dictates which rules and regulations apply to a given payment, who can start them, and under which specific scenarios they can occur.
Feature
To help provide better detail in our reporting, Forth will begin collecting additional information regarding the method by which authorization was obtained from the consumer.
To begin, log in to the CRM, and click on the Enrollments tab. Search for the appropriate contact and select "Add Payment" located next to the Search Bar (see below).

A new "Add/Edit Payment" dialog box will then open, similar to the one shown below. NOTE: "Forth Custodial" is the default gateway.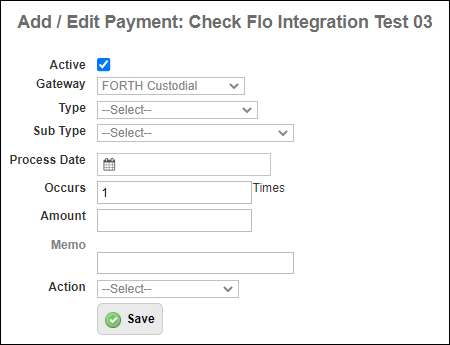 When adding a new ACH debit transaction or adjusting an existing ACH debit transaction, a dropdown menu now appears, prompting your agents to select the method the consumer authorized the transaction and/or a change to the transaction. Select the appropriate Gateway from the first dropdown menu, and then select "ACH Client Debit" from the "Type" dropdown (see below).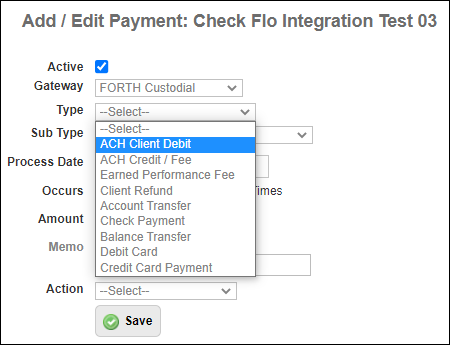 Next, go to the "Auth Via" dropdown menu. From here, select a method for the authorization to be made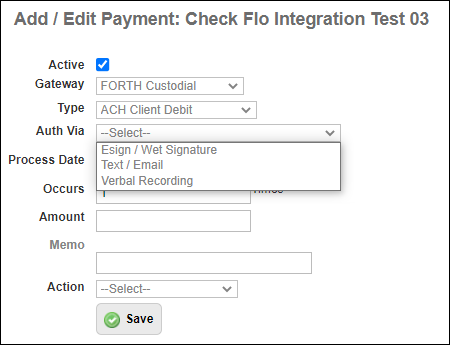 The three options are described in more detail below:
PPD (Esign / Wet Signature) - Any signed document including e-sign and wet signatures. A Prearranged Payment and Deposit (PPD) entry is a credit or debit to a consumer's bank account. The payment can be either single-use or recurring. In most business-to-consumer (B2C) contexts, PPD is by far the most commonly used SEC code.
WEB (Text / Email) - Any authorization made on a device by email or text message. Internet-initiated/Mobile entries happen when debiting a consumer bank account using authorization given over the internet or a "wireless" network. These debits can either be single-use or recurring, like PPD entries.
TEL (Verbal Recording) - Any recording of a DRSP agent speaking with a consumer. Telephone-initiated entries happen when debiting a consumer bank account using authorization given over the phone. Operating guidelines state that the originator and receiver must have a pre-existing relationship, or if none exists the receiver of the debit (i.e. the consumer) must have been the one to make the phone call.
Enter a date either in MM/DD/YYYY format or use the Calendar tool by clicking the small calendar icon to add the date you wish this transaction to process.
Next, enter the number of times you wish this transaction to occur. In the "Amount" field, enter the dollar amount to be paid via ACH Client Debit.
If you have any comments or additional information regarding this transaction, this can be added via the "Memo" dropdown field if you wish (One example is "ACH Monthly Debit").
Finally, select "Schedule Transaction" from the "Action" dropdown menu (shown below) in order to schedule the transaction.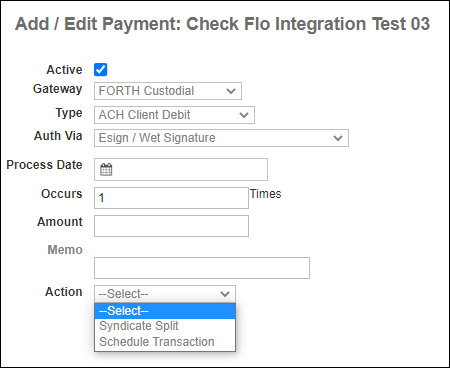 Click on the "Save" button to complete this transaction. If you return to the Enrollments tab, and look at this contact's record, you will notice an ACH Client Debit transaction is now listed on his record (see example below).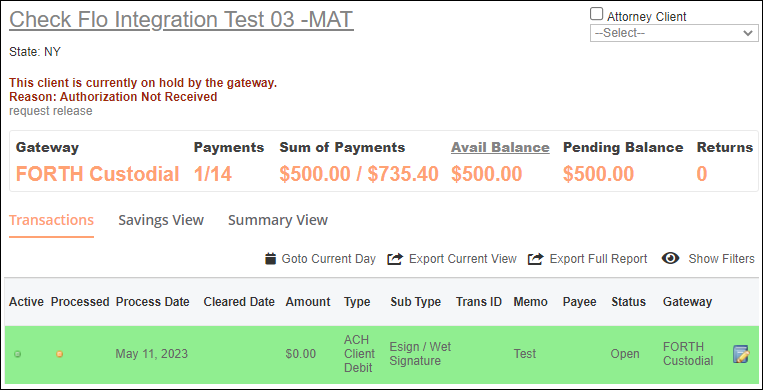 Reference
For more general information about ACH, please refer to the following article: https://www.moderntreasury.com/journal/the-top-5-ach-payment-types-and-an-ach-payment-glossary
Article Version History:
| | | |
| --- | --- | --- |
| Version | Effective Date | Description |
| Basic | 05/18/2022 | Initial Release |
| 0.1 | 05/25/2022 | Minor Updates |
| 0.2 | 05/09/2023 | Added header and version control footer; Refreshed all screenshots to reflect the current user interface and updated company name. |