| | | | |
| --- | --- | --- | --- |
| Doc. Number | Article Title | Effective Date | Version |
| FHC-XX | Cancel Program | September 14, 2023 | 1.1 |
This article was developed to describe the Cancel Program tool provided by the Forth CRM.
The Cancel Program tool allows you to cancel a contact file's enrollment program. Additionally, you can cite a cancellation reason, add cancellation notes, complete/delete future tasks or events, and (optional) schedule a refund payment.
This article is divided into the following sections:
Access to Feature
To access this tool, log in to the CRM and click the Enrollments tab. 
Select the enrolled customer from the "Enrolled Customer" table by clicking the small green arrow to the far right of the row. Now, select "Cancel Program" from the Navigation Bar (see the image below).

You should receive a warning dialog asking you to confirm that you wish to proceed with the program cancellation. Click "OK' to proceed.

Cancel Enrollment Options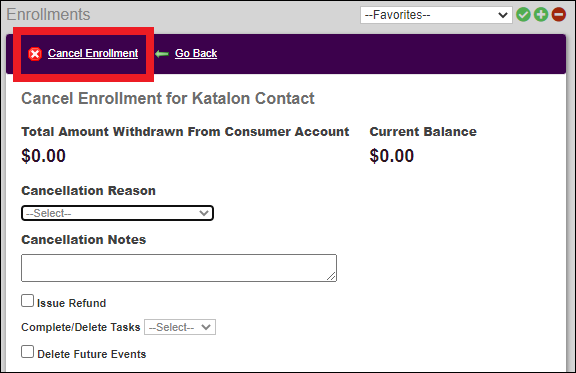 Cancellation Reason: Specify why the client chose to cancel the enrollment program using the selections in the dropdown box.
Cancellation Notes: Add relevant cancellation-related notes to the client file
Issue Refund: Setup a refund for the client from inside the cancel enrollment area
     NOTE: Refunds are only issued for ForthPay or GCS enrollments. For all other gateways/processors, this is just for reporting purposes within the CRM, the Servicer needs to reach out to the payment processor/gateway directly to issue a refund.




Complete/Delete Tasks: Set as complete or delete any associated tasks on the client's file
Delete Future Events: Delete any relevant future events associated to the client's file

Once final selections are made click Cancel Enrollment found at the top right of the page in the Navigation Bar area. If the enrollment cancellation is accepted, a notification like the one shown below will briefly appear on the page.

Re-Enrolling Clients
To re-enroll this contact, you will now see a new option in the Navigation Bar. Click on "Re-Enroll Client" in the Navigation Bar (see image below). 

Next, a dialog box appears confirming that you wish to re-enroll the client. Press "OK" to proceed. You will then receive a brief notification that the Contact has been re-enrolled (see the image below).

Article Version History: 
| | | |
| --- | --- | --- |
| Version | Effective Date | Description |
| Basic | 03/13/2019 | Initial Release |
| 0.1 | 05/06/2021 | Minor Updates |
| 1.0 | 03/02/2023 | Added header and version control footer; Refreshed all screenshots to reflect the current user interface; Added introductory section. |
| 1.1 | 09/14/2023 | Added Note to the "Issue Refund" description line for clarification. |
|   |   |   |